CHOC Pressroom
DR. RICHARD GATES APPOINTED SURGEON-IN-CHIEF FOR CHOC CHILDREN'S
October 15, 2012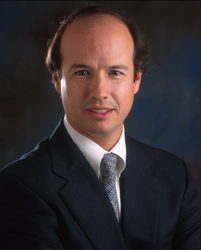 CHOC Children's announces the appointment of Richard Gates, M.D., F.A.C.C., F.A.C.S., to the position of surgeon-in-chief. In his new role, Dr. Gates, a cardiothoracic surgeon and associate director of the CHOC Children's Heart Institute, will provide leadership for CHOC's surgical program. Given the opening of Orange County's first dedicated pediatric inpatient surgical facility, the Robert L. Tidwell Surgical Center, in CHOC's new patient care tower in Spring 2013, Dr. Gates will play a critical part in helping CHOC lead the nation in innovation, quality and patient safety.
Working in partnership with CHOC leadership, surgeons and anesthesiologists, Dr. Gates will help create and maintain a world-class pediatric peri-operative program. He'll also work in collaboration with UC Irvine, with whom CHOC is affiliated, to promote research and education in the program. He's dedicated to supporting CHOC's position as a best place to practice for physicians and staff, and a best place to receive care for patients and their families.
"CHOC surgeons have dreamed of the exciting day when we enter our new hospital and are welcomed to the most technologically advanced, safest, and family- friendly operating rooms in America. I am very privileged to be able to work with CHOC's outstanding surgeons, UCI's renowned professors, and CHOC Children's visionary administration as we continue to shape the finest pediatric health experience for the children of Southern California," said Dr. Gates.
A member of CHOC's medical staff since 1995, Dr. Gates is board certified in surgery and thoracic surgery with a congenital subspecialty certificate. He earned his medical degree from Yale University School of Medicine. He completed his general surgery training at Columbia-Presbyterian Hospital in New York City and his cardiothoracic training at UCLA Medical Center. There, he also completed fellowships in pediatric cardiac surgery and heart-lung transplantation.

Named one of the best children's hospitals by U.S. News & World Report (2014-2015) and a 2013 Leapfrog Top Hospital for the highest quality of care, Children's Hospital of Orange County (CHOC Children's) is exclusively committed to the health and well-being of children through clinical expertise, advocacy, outreach, education and research that brings advanced treatment to pediatric patients. Affiliated with the University of California, Irvine, CHOC's regional health care network includes two state-of-the-art hospitals in Orange and Mission Viejo, many primary and specialty care clinics, a pediatric residency program, and four clinical centers of excellence - the CHOC Children's Heart, Neuroscience, Orthopaedic and Hyundai Cancer Institutes..

CHOC earned the Gold Level CAPE Award from the California Council of Excellence, the only children's hospital in California to ever earn this distinction, and was awarded Magnet designation, the highest honor bestowed to hospitals for nursing excellence. Recognized for extraordinary commitment to high-quality critical care standards, CHOC's Pediatric Intensive Care Unit (PICU) is the first in the United States to earn the Beacon Award for Pediatric Critical Care Excellence.
###
Media Contact:
Denise Almazan, Director of Public Relations
phone: (714) 509-8680
email: pr@chocchildrens.org