CHOC Pressroom
ARGYROS FAMILY DONATES $5M TO CHOC
September 10, 2012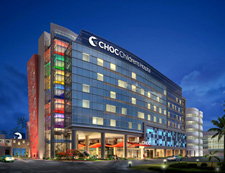 From OC Metro
Published September 10, 2012
by Caitlin Adams
Julia and George Argyros' names will grace the new pediatric emergency department at CHOC Children's, in recognition of the couple's $5 million gift to the hospital.
Set to open in March next year, the 22,000-square-foot emergency department at the CHOC Children's Hospital in Orange is uniquely designed to serve children's health and medical needs. With 31 treatment rooms, 14 rapid medical exam rooms and three triage suites, the department is expected to serve 55,000 patients in its first year.
"We are extremely grateful for the long-standing support of the Argyros family, and are thrilled by this most recent contribution which will help us achieve our vision and transform pediatric care," said Kim Cripe, president and CEO of CHOC Children's. "Julia and George's $5 million donation is an amazing gift to the children and families in Orange County who will now have access to a world-class pediatric emergency department."
The Julia and George Argyros Emergency Department is one more crowning aspect for the new CHOC Children's Hospital, which is undergoing the construction of a new patient care tower, set to open in spring 2013. The department will be part of the new 425,000-square-foot South Tower, which is being designed and constructed to incorporate the latest environmentally friendly architectural trends.
Graig Eastin, vice president of the CHOC Children's Foundation, expressed the foundation's gratitude for the Argyros' "transformational investment" in pediatric care. "This timeless gift will create a lasting legacy for generations to come at CHOC," he said.
This is not the Argyros family's first contribution to CHOC Children's. Julia and George Argyros played an instrumental role in launching the hospital's "Change CHOC, Change the World" fundraising campaign. The couple contributed $1 million to the campaign as a leadership gift in 2009. To recognize that gift, the reception area of the new tower was named The Stephanie A. Argyros Reception, in honor of the couple's daughter.
Other collaborations include the Argyros' sponsorship of the CHOC Cherishes Children Gala and the CHOC Follies. Last year, Stephanie Argyros was named to the Board of Directors of the CHOC Children's Foundation.