CHOC Pressroom
IT WAS A PERFECT FIT
June 14, 2012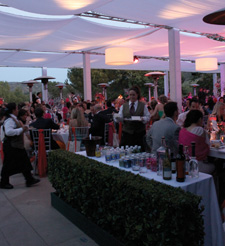 From OC Metro
Published: June 1, 2012
The CHOC Glass Slipper Guild Gala raised $240,000 for the hospital.
by jenna swenney
When a child is admitted to the hospital, the world no longer spins at its steady pace. It freezes into a glass that can carelessly shatter the lives of those encompassed in it. For days, weeks or even years, family and friends gather near hospital beds to sing soft prayers and hold the hands of those trembling with fear and heartbreak. There are times when parents must sit with their children in a laconic haze and put aside their own blind-sided fear to caress meager threads of hope into their child's ailing body.
For the past 50 years, CHOC Children's has sought to find creative solutions for children and families in those moments when life doesn't make sense and feels incredibly unfair.
In addition to its dedication to O.C.'s children, the CHOC Glass Slipper Guild's 18th Annual Gala, held on May 5, encouraged and celebrated the community's passion for the hospital. More than 350 people gathered at Shady Canyon Golf Club in Irvine and raised $240,000 to fund a 6,400-square-foot post-anesthesia care unit in the hospital's new patient care tower. Guests enjoyed a gourmet meal, live and silent auctions, and rides on a Ferris wheel.

The honorees for 2012 included Caroline and Todd Merchant, Scott L. Schwartz, Jim Abbott and Misty May-Treanor.

Abbott, a legendary Major League Baseball pitcher who was born without a right hand, gave OC METRO a few moments of his time to share his passion for CHOC and their method for helping those in need.
"Creativity is one of the most important aspects in supporting someone," Abbott said. "The typical way something is done doesn't always work. To believe there is one way to do something is obnoxious. That first step depends on creativity. Whether it's pitching with your left hand or finding a way to tie your shoes, there is always a new, fresh way to look at something.
"Solution solving is solution finding," Abbott added. "Creativity is that first step. It's not easy – I know that – but it's important."
Abbott overcame an almost insurmountable challenge to realize his dream of competing at the highest level of professional baseball. He played for the Angels, the New York Yankees, the Chicago White Sox and the Milwaukee Brewers from 1989 to 1999. Despite his obstacles, Abbott became one of the most revered and inspirational players in Major League Baseball. As an O.C. resident, he was impressed with the respectful care and imagination provided by CHOC.
"It made me think of my own hometown when I was growing up; I wasn't always sure of myself and spent some time at rehabilitation hospitals," Abbott said. "That creativity, that open-mindedness – those people taught me that you might have to do things differently, but that you can still do it."