CHOC Pressroom
'MIRACULOUS' FIND MAY SOLVE MURRIETA BOY'S AILMENT
May 08, 2012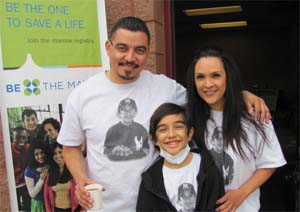 By Maggie Avants
Doctors this week are scheduled to perform a procedure that is hoped to solve a rare disease suffered by 9-year-old Ricky Martinez of Murrieta.
Medical staff for months have been searching for a bone marrow match for Ricky, who was diagnosed with severe aplastic anemia in August 2011. The Martinez family has even reached out to the community in hopes of finding a match through donor drives.
Now an unexpected find—blood donated from the umbilical cord of Ricky's own birth–will be transfused into the 9-year-old this week, said Dr. David Buchbinder, a hematologist at Children's Hospital of Orange County.
The cord blood was located when Buchbinder and his staff, who have been administering weekly blood transfusions to Ricky for six months, searched a cord-blood database and came back with a match.
"We search registries for bone marrow as our first choice. As a second choice we look for cord blood," Buchbinder told Patch Monday. "So when we found this one and looked a little closer, it turned out to be an exact DNA match."
Buchbinder explained that cord blood is still an unconventional way to treat aplastic anemia.
"We don't typically use cord blood to treat this disease. There are probably a handful of cases in the U.S. and internationally," he said.
But in Ricky's case, it has its advantages, he said.
Bone marrow from a sibling is preferred, but since Ricky does not have any siblings, it would have had to come from an unrelated donor.
"The dangers of toxicity (from Ricky's cord blood) are going to be minimal compared to using an unrelated person's. Stem cells you get from an unrelated person can attack the immune system. I think this is less risky," Buchbinder said.
Locating the cord blood has come as a "Godsend" to Ricky's parents, Oscar and Cynthia.
"This is the miracle we have been praying for. It's just phenomenal," Oscar said. "It is so rare that no one else in the world has needed Ricky's cord blood."
Oscar explained that his wife donated Ricky's umbilical cord to science at birth. The family could not afford to "bank" it, so they chose to donate it instead, he said. It was then shipped off to be frozen, and the couple hoped it would help save someone's life someday.
Fast forward to the present, when Oscar said Children's Hospital of Orange County called them in for a "911 meeting" to share the good news with them.
"They didn't want to just keep giving him more tranfusions," Oscar said.
Severe aplastic anemia, also known as bone marrow disease, affects only three in every 1 million people. Having the disease means Ricky's body does not make stem cells, which produce red blood cells, white blood cells and platelets.
Buchbinder does not believe Ricky was born with the disease, but that he acquired it.
Because the body does not produce blood at normal levels, Ricky's immune system hangs in delicate balance, keeping him home from public school and his mother away from work.
Buchbinder said inserting the cord blood into Ricky will be a simple 15-minute tranfusion—it's the follow-up care that will be crucial. He expects Ricky to be in the hospital for at least four weeks.
"A huge team" will immediately begin to monitor how his body is taking the cord blood, and how quickly it starts to populate and prompt new cell growth, he said. All the while, they will ensure he stays healthy.
"I think it's amazing," Buchbinder said. "He has an extraordinarily rare disease that has affected his family tremendously. Hopefully he does great and it is a very short stay."
Buchbinder noted the use of the cord blood brings up a "very important question."
"Should people bank their cord blood more? It is a very hot debate. In theory it makes great sense and it seems there will be less risk."