CHOC Pressroom
CHOC CHILDREN'S PREPARES FOR 15TH CHOC FOLLIES
March 07, 2012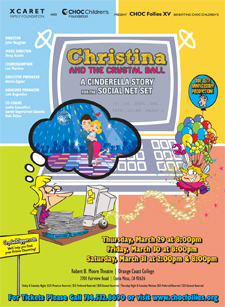 Published: March 7, 2012
by Caitlin Adams - OC METRO
CHOC Children's is gearing up for its return to the limelight later this month, when dozens of Orange County's business and community leaders will take to the stage to sing and dance in the hospital's annual fundraiser. This is the 15th year that the CHOC Follies has returned to showcase the talents of O.C.'s business community leaders. This year's show, "Christina and the Crystal Ball, a Cinderella Story for the Social Net Set", is sponsored by the XCARET Family Foundation.
"I can hardly believe this is our fifteenth CHOC Follies production," Zigner said. "With each year, our 'Follies' Family' gets bigger, the productions get more spectacular, and the community gets more involved. This year, we're excited to have Broadway veteran April Malina bring our lead character, Christina, to life."
Zigner said that Malina's resume includes the international Broadway touring companies of Miss Saigon and Hair, a number of vocal performance groups and voice?over work on commercials, movies, soundtracks and television scores.
In its 14-year run of annual performances, the CHOC Follies has earned more than $5 million for the hospital and is widely regarded as the most original and successful charity event in the county. Proceeds for this year's show will be directed to the construction of a new interactive media center, call The Voice. This new amenity will allow patients a therapeutic outlet for creative activities similar to broadcast media. The Voice is scheduled to debut in the hospital's new seven-story tower next year.
"Christina and the Crystal Ball, a Cinderella Story for the Social Net Set", is an original musical production for the 2012 CHOC Follies. The production team for the show is comprised of Follies founder and executive producer Gloria Zigner, associate producer Lois Augustine, and director John Vaughan. The event is co-chaired by Leslie Cancelleri, Sandy Segerstrom Daniels and Dale Skiles. Performances will be held Thursday, March 29, through Saturday, March 31. Ticket prices range from $35 to $125. For more information, to learn about sponsorship opportunities or to purchase tickets, visit the CHOC Follies website.