CHOC Pressroom
CHOC CHILDREN'S IS RECOGNIZED BY STATE AS A LEADER IN PERFORMANCE EXCELLENCE
January 04, 2012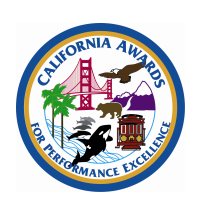 CHOC Children's has been recognized with a Gold Level CAPE (California Awards for Performance Excellence) Award – the top honor - from the California Council for Excellence (CCE). CHOC Children's is the only children's hospital in the state to ever earn this distinction, and is the only Orange County-based organization honored this year.
The CAPE Award, administered by the CCE, is the highest recognition in the state for performance excellence, honoring organizations that demonstrate continuous improvement and superior performance in the areas of leadership, strategic planning, customer and market focus, measurement/knowledge management, human resources, process management and business results. The CAPE program employs the same rigorous criteria used on the national level for the Baldrige Performance Excellence Program.

CHOC was evaluated for the award through a 50-page application and a weeklong site visit by CAPE examiners. Previously, CHOC earned the Bronze and Silver Level CAPE awards. This is only the third time CHOC has applied for consideration of the CAPE Award. This year's honorees will be recognized at the CCE's 18th Annual Best Practices and Awards Conference at Disney's Paradise Pier Hotel in May.

About CHOC Children's: Named one of the best children's hospitals by U.S. News & World Report (2014-2015) and a 2013 Leapfrog Top Hospital, CHOC Children's is exclusively committed to the health and well-being of children through clinical expertise, advocacy, outreach and research that brings advanced treatment to pediatric patients. Affiliated with the University of California, Irvine, CHOC's regional health care network includes two state-of-the-art hospitals in Orange and Mission Viejo, several primary and specialty care clinics, a pediatric residency program, and four centers of excellence - The CHOC Children's Heart, Neuroscience, Orthopaedic and Hyundai Cancer Institutes.

CHOC earned the Gold Level CAPE Award from the California Council of Excellence, the only children's hospital in California to ever earn this distinction, and was awarded Magnet designation, the highest honor bestowed to hospitals for nursing excellence. Recognized for extraordinary commitment to high-quality critical care standards, CHOC's Pediatric Intensive Care Unit (PICU) is the first in the United States to earn the Pediatric Beacon Award for Critical Care Excellence.
###
Media Contact:
Denise Almazan, Director of Public Relations
phone: (714) 509-8680
email: pr@chocchildrens.org