CHOC Pressroom
CHOC CHILDREN'S PEDIATRICIAN-IN-CHIEF APPOINTED TO EMERGENCY MEDICAL CARE COMMITTEE
December 20, 2011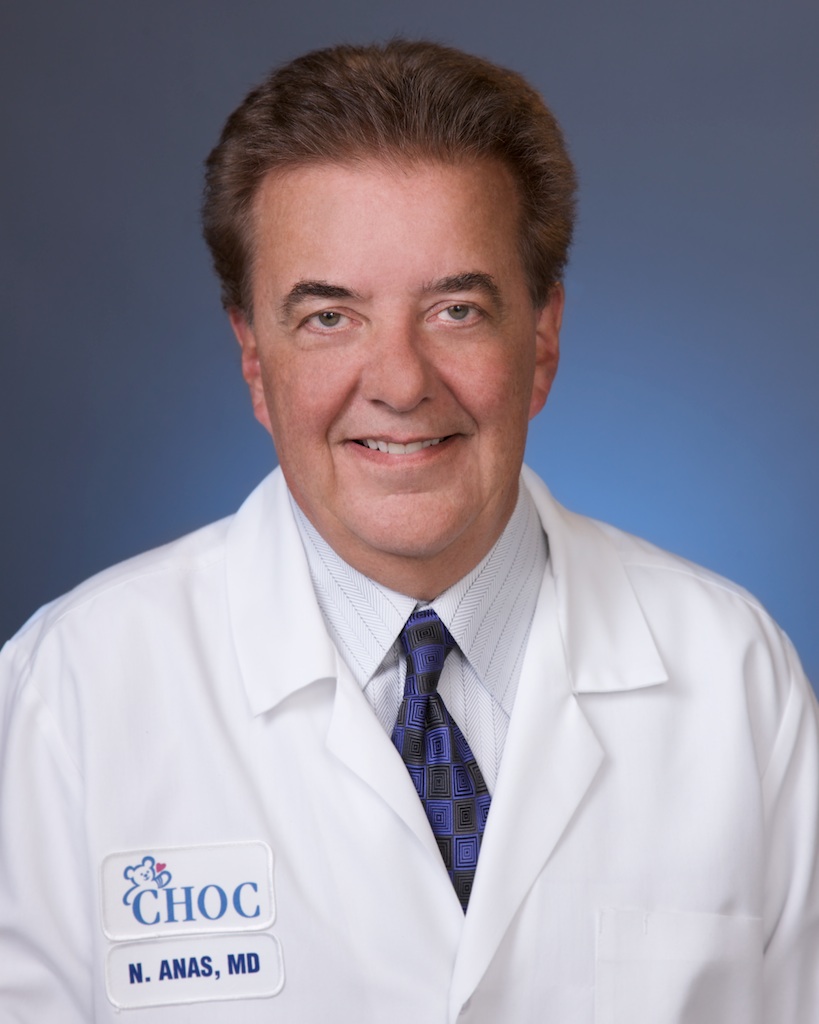 CHOC Children's Pediatrician-in-Chief Nick Anas, M.D., was recently appointed to serve on the Emergency Medical Care Committee for Orange County Emergency Medical Services (EMS). The committee advises the Orange County Board of Supervisors and EMS on all matters related to emergency medical care in the county. Dr. Anas was appointed by Supervisor Bill Campbell for a two-year term.
In addition to serving as pediatrician-in-chief, Dr. Anas is the director of CHOC's Pediatric Critical Care Program. He leads a team of pediatric subspecialists who treat and protect children suffering from acute, life threatening illnesses and injuries. He is actively involved in clinical research, contributing to medical journals and textbooks, and in education, training the next generation of leaders in the field of pediatric critical care medicine.
His role on the Emergency Medical Care Committee will include the coordination of emergency medical care services for children in Orange County. His position on the committee is timely, given the Spring 2013 opening of CHOC's seven-story patient care tower. The tower includes a new pediatric emergency department.
"I am honored to have been appointed to this committee as a representative of CHOC. Affiliated with UC Irvine and the only pediatric healthcare system in Orange County, CHOC is in a position to help ensure the healthcare needs, including emergency care, of our community's children are met in a manner consistent with our high standards. Orange County demands the best for our residents. We should expect nothing less when it comes to emergency services," says Dr. Anas.
Orange County EMS: The mission of Orange County Emergency Medical Services is to plan and coordinate the highest quality prehospital and emergency medical care in response to individual needs or community crisis.

Named one of the best children's hospitals by U.S. News & World Report (2014-2015) and a 2013 Leapfrog Top Hospital for the highest quality of care, Children's Hospital of Orange County (CHOC Children's) is exclusively committed to the health and well-being of children through clinical expertise, advocacy, outreach, education and research that brings advanced treatment to pediatric patients. Affiliated with the University of California, Irvine, CHOC's regional health care network includes two state-of-the-art hospitals in Orange and Mission Viejo, many primary and specialty care clinics, a pediatric residency program, and four clinical centers of excellence - the CHOC Children's Heart, Neuroscience, Orthopaedic and Hyundai Cancer Institutes..

CHOC earned the Gold Level CAPE Award from the California Council of Excellence, the only children's hospital in California to ever earn this distinction, and was awarded Magnet designation, the highest honor bestowed to hospitals for nursing excellence. Recognized for extraordinary commitment to high-quality critical care standards, CHOC's Pediatric Intensive Care Unit (PICU) is the first in the United States to earn the Beacon Award for Pediatric Critical Care Excellence.
###
Media Contact:
Denise Almazan, Director of Public Relations
phone: (714) 509-8680
email: pr@chocchildrens.org