CHOC Pressroom
CHOC CHILDREN'S IS ONE OF ONLY 10 CHILDREN'S HOSPITALS IN THE NATION - AND ONLY TWO IN THE STATE - NAMED "2011 LEAPFROG TOP HOSPITAL"
December 08, 2011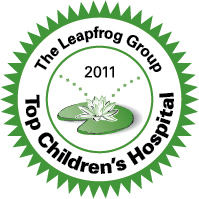 CHOC Children's Hospital is one of 65 hospitals - and one of only 10 children's hospitals - across the nation named to the "Leapfrog 2011 Top Hospitals" list, based on results from the Leapfrog Group's national survey. CHOC is one of only two children's hospitals in California to make the prestigious list.
The Leapfrog survey measures hospitals' performances in crucial areas of patient safety: the use of computerized physician order entry (CPOE) to prevent medication errors; standards for performing high-risk procedures; protocols and policies to reduce medical errors and other safe practices recommended by the National Quality Forum; and adequate nursing and physician staffing. In addition, hospitals are also measured on their progress in preventing infections and other hospital-acquired conditions and adopting policies in the handling of serious medical errors, among other things.
"There are too few sources of information on the safety and quality of children's hospitals. The Leapfrog Group is proud to be one of the only national sources of information that families can turn to when they are faced with the tough decision of which hospital is best for their child. Leapfrog's safety and quality measures allow families to compare hospitals on things like preventing infections and putting practices in place that are known to reduce medical errors. Today, we are honored to recognize CHOC Children's for the fourth time as a Leapfrog Top Hospital. CHOC Children's has outperformed other hospitals across the country and we congratulate them on their continued excellence and commitment to transparency," says Leah Binder, CEO, The Leapfrog Group.
About The Leapfrog Group: The Leapfrog Group is a coalition of public and private purchasers of employee health coverage founded a decade ago to work for improvements in health care safety, quality and affordability. The annual survey is the only voluntary effort of its kind. More information is available at www.leapfroggroup.org.
Named one of the best children's hospitals by U.S. News & World Report (2014-2015) and a 2013 Leapfrog Top Hospital for the highest quality of care, Children's Hospital of Orange County (CHOC Children's) is exclusively committed to the health and well-being of children through clinical expertise, advocacy, outreach, education and research that brings advanced treatment to pediatric patients. Affiliated with the University of California, Irvine, CHOC's regional health care network includes two state-of-the-art hospitals in Orange and Mission Viejo, many primary and specialty care clinics, a pediatric residency program, and four clinical centers of excellence - the CHOC Children's Heart, Neuroscience, Orthopaedic and Hyundai Cancer Institutes..

CHOC earned the Gold Level CAPE Award from the California Council of Excellence, the only children's hospital in California to ever earn this distinction, and was awarded Magnet designation, the highest honor bestowed to hospitals for nursing excellence. Recognized for extraordinary commitment to high-quality critical care standards, CHOC's Pediatric Intensive Care Unit (PICU) is the first in the United States to earn the Beacon Award for Pediatric Critical Care Excellence.
###
Media Contact:
Denise Almazan, Director of Public Relations
phone: (714) 509-8680
email: pr@chocchildrens.org