CHOC Pressroom
CHOC IS ONE OF ONLY EIGHT CHILDREN'S HOSPITALS IN THE NATION NAMED A 2009 LEAPFROG TOP HOSPITAL
December 03, 2009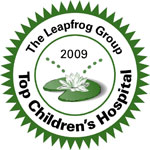 CHOC Children's Hospital is one of 45 hospitals - and one of only eight children's hospitals across the nation- named to the "Leapfrog 2009 Top Hospitals" list, based on results from The Leapfrog Hospital Survey. CHOC's survey score was 97.2 points out of 100 possible points, as compared to an average score of 72.4 for children's hospitals across the country. The survey (found at www.leapfroggroup.org) is the only national, public comparison of hospitals on key issues including mortality rates for certain common procedures, infection rates, safety practices and measures of efficiency.
According to The Leapfrog Group CEO Leah Binder, "This year's class of Top Hospitals not only hits the mark in areas such as medication error prevention and ICU deaths, but they also use their resources wisely, providing excellent and efficient outcomes for patients. Regardless of what happens to healthcare reform, these hospitals are the future."
Survey criteria included: meeting Leapfrog standards for implementing computerized physician order entry systems that have been shown to reduce medication errors by up to 85 percent; meeting stringent performance standards for complex, high-risk procedures; meeting standards for staffing the intensive care unit, shown to reduce mortality by 40 percent or more; and scoring in the top decile in the nation for efficiency – scored by the Leapfrog Hospital Recognition Program incorporating quality outcomes, length of stay, readmission rates, and incidence of hospital-acquired conditions and infections.
Pointing to a study by Dr. Ashish Jha at Harvard Medical School published in 2008 in the Journal of the Joint Commission, Binder says, "We know from research that Leapfrog-reporting hospitals are among the best in the country, and they demonstrate through Leapfrog that they set ambitious goals for their performance." (Dr. Jha's study concluded that Leapfrog hospitals have lower mortality and better quality of care than those that don't report to Leapfrog.)
About The Leapfrog Group: Founded in 2000 by the Business Roundtable, The Leapfrog Group uses the collective leverage of large purchasers of healthcare to initiate breakthrough improvements in the safety, quality and affordability of health care for Americans. The Leapfrog Hospital Survey is the gold standard for comparing hospitals' performance on the national standards of safety, quality and efficiency. Hospitals that participate in the survey achieve hospital-wide improvements that translate into millions of lives and dollars saved.

Named one of the best children's hospitals by U.S. News & World Report (2014-2015) and a 2013 Leapfrog Top Hospital for the highest quality of care, Children's Hospital of Orange County (CHOC Children's) is exclusively committed to the health and well-being of children through clinical expertise, advocacy, outreach, education and research that brings advanced treatment to pediatric patients. Affiliated with the University of California, Irvine, CHOC's regional health care network includes two state-of-the-art hospitals in Orange and Mission Viejo, many primary and specialty care clinics, a pediatric residency program, and four clinical centers of excellence - the CHOC Children's Heart, Neuroscience, Orthopaedic and Hyundai Cancer Institutes..

CHOC earned the Gold Level CAPE Award from the California Council of Excellence, the only children's hospital in California to ever earn this distinction, and was awarded Magnet designation, the highest honor bestowed to hospitals for nursing excellence. Recognized for extraordinary commitment to high-quality critical care standards, CHOC's Pediatric Intensive Care Unit (PICU) is the first in the United States to earn the Beacon Award for Pediatric Critical Care Excellence.
###
Media Contact:
Denise Almazan, Director of Public Relations
phone: (714) 509-8680
email: pr@chocchildrens.org