Patients & Family :: Geek Squad
GEEK Squad at CHOC Children's
Eliminate your technology stress with the help of Geek Squad at CHOC Children's. Best Buy's on-site Geek Squad team offers a full array of consumer technology repair services at no cost to CHOC Children's patients and families.
Daily: 10:00am to 6:30pm
CHOC Clinic Building, 3rd Floor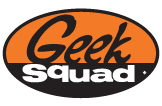 Expert Geek Squad agents are available on-site to efficiently and effectively address questions and issues involving computers, DVD players, gaming systems, cameras, cell phones or any other consumer technology devices.
Geek Squad agents offer drop-in consulting and pass out laptops through the CHOC laptop loaner program. Cameras, camcorders, game systems, webcams and AC chargers are also available for check out. For assistance or questions please call (714) 509-4824 or you can dial 1-4824 inside the hospital.
Please note that Geek Squad agents may only work on non-medical technology equipment, and are not available to support CHOC Children'sowned business computers, laptops, and other technology equipment.