CHOC Institutes :: Orthopaedic Institute - Trauma and Fracture Care
Trauma and Fracture Care
Program Director: Jeffrey Dobyns, M.D.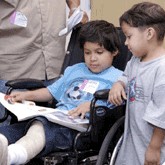 Orthopaedic surgeons offer diagnosis, surgical and nonsurgical treatment for a wide range of fractures, sprains, strains and traumatic injuries in children and adolescents. The team focuses on the operative and nonoperative treatment of traumatic injuries in children.
Common fractures may include upper extremity injuries, such as forearm or fractures, hand fractures; clavicle, humerus, femur, tibia/fibula, or foot and ankle fractures. Dislocations often treated are shoulder, elbow, wrist, finger, ankle or hip. To learn more about fractures, click here.
The CHOC staff works closely with community emergency departments and community physicians to facilitate timely follow up care. Referral and authorization from the primary care doctor is usually required.
For more information on this program, please call (888) 770-2462.