CHOC Institutes :: Orthopaedic Institute - Musculoskeletal Tumor Program
Musculoskeletal Tumor Program
Program Director: Carl Weinert, M.D.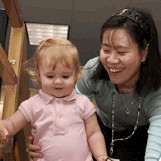 Our pediatric orthopaedic surgeons combine expertise with pediatric oncologists from the CHOC Cancer Institute in the assessment and treatment of both cancerous and noncancerous soft tissue tumors in children and adolescents.
Children with bone and soft tissue tumors often require the care of a number of different medical and surgical subspecialists. Our multidisciplinary team consists of pediatric orthopaedic surgeons and oncologists, physical and occupational therapists, psychologists, social workers and specially-trained oncology nurses to manage the unique needs of our patients.
If a diagnosis of cancer is confirmed, the patient and family also meet with the oncology team from the CHOC Cancer Institute to discuss the treatment options available.
While bone cancer in an extremity (like the arm or leg) is rare, it can still be a challenge to treat the malignancy and while preserving limb function and form. In the past, these cancers were treated by amputation with relatively poor functional results. Over the last 30 years, limb salvage (operations to save the limb rather than amputate) has evolved, and this technique has been proven a safe and effective alternative in most cases.
Adjuvant or "assisted" chemotherapy is now used for most bone sarcomas. There have also been major developments in limb reconstruction—surgeons can now use implants matched to the patient's size, stronger metals, bone and soft tissue allografts (transplants), microvascular and muscle transfer procedures, and bone graft substitutes. These techniques all allow the limb to be restored with good function. There are even devices that can be expanded or "grown" for children to account for normal skeletal growth lost with limb preservation.
Our patients are managed by the CHOC Orthopaedic and Cancer Institutes before and after surgery and as they continue treatment and follow up.
Tumors treated include:
Malignant Soft Tissue Tumors
Soft tissue sarcomas: Occur in the soft tissues of the body, accounting for about 7% of the cancers diagnosed before age 20.
Rhabdomyosarcoma: The most common soft tissue tumor, accounting for about half of all cases among children under age 15.
Fibrosarcomas: Malignant tumors derived from connective tissue fibroblasts.
Malignant Bone Tumors
Osteosarcoma: A sarcoma found in the bone. Slightly more than half of bone cancers in children are this kind of tumor.
Ewing's Sarcoma: Another form of sarcoma found in the bone. It is responsible for about one-third of bone cancers in children.
Benign Soft Tissue Tumors
Aggressive and juvenile fibromatosis, including Desmoid tumors.
Hemangiomas: noncancerous tumors that are formed by a mass of blood cells. The tumor rarely become malignant, and can be successfully removed. They often result from trauma to the affected part.
Neurofibromatosis: a congenital (from birth) condition that involves fibrous tumors (neurofibromas) of nerve tissues. Neurofibromas may develop in the nervous system, and the condition may lead to malformation of bones and muscles.
Vascular malformations: tumors composed of malformed blood vessels.
Benign bone tumors
Aneurysmal bone cyst: a bone lesion that may develop in the long bones or vertebrae.
Arteriovenous malformations: abnormal, tangled collections of dilated blood vessels. A common type is the congenital arteriovenous fistula.
Baker's cyst: a cyst that forms at the back of the knee.
Chondroblastoma: a rare tumor that usually affects the growing segments (epiphysis) of the growing skeleton.
Chondromyxoid fibroma: occurs in the shaft of the long bone.
Enchondromas: benign, slowly growing tumors of cartilage cells. They occur in the tubular bones in the hands or feet.
Eosinophilic granuloma: can occur anywhere in the body, but it's most commonly found in the skull.
Fibrous dysplasia: involves cystic bone growth resulting from abnormal bone development.
Hemangioma: a tangle of abnormal vessels forming an abnormal connection between the arteries and the veins.
For more information on this program, please contact CHOC Institutes at (888) 770-2462.