CHOC Institutes :: Orthopaedic Institute - Clubfoot and Foot Disorder Program
Clubfoot and Foot Disorder Program
Program Director: Carl Weinert, M.D.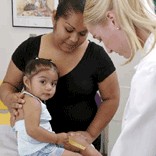 At the CHOC Orthopaedic Institute, our specialists provide assessment, treatment and management of congenital and developmental foot and ankle conditions. CHOC has been a center for the assessment and treatment of congenital and acquired deformities of the foot and ankle for over 30 years.
In addition to clubfoot disorder, The Clubfoot and Foot Disorder Program also treats flat foot, polydactyly of toes, talipes cavus, tarsal coalitions, intoeing gait, idiopathic toe-walking, toe deformities, metatarsus adductus and vertical talus.
Treatment Options May Include:
Casting, bracing, and/or physical therapy
Soft tissue and ligament releases
Tendon transfers
Bone lengthening or grafting
Surgery, including soft tissue and bone reconstruction and gradual correction with external fixation
More about Clubfoot
Clubfoot is a tentatively common childhood condition that requires vigorous orthopedic treatment. With expert early treatment, a clubfoot patient will wear regular shoes, take part in sports, and lead a full, active life. Parents who have a child with clubfoot should find an orthopedic surgeon who is an expert in its treatment and work closely with them to provide the best possible result for their child.
Clubfoot Treatment Options
Treatment for clubfoot should be started soon after birth, preferably during the first week of life. The goal is to correct the twisted foot gradually and gently into a more normal position. This is achieved by a series of corrective casts—the Ponseti method of serial casting and tenotomy. Both Drs. Weinert and Aminian trained with Dr. Ponseti, originator of this method and follow his treatment protocol. The Ponseti method can be an effective alternative treatment for clubfoot—all without the associated risks and complications of major foot surgery. Studies show that patients treated with the Ponseti method enjoy a more flexible foot and ankle than those treated surgically—and long-term studies have demonstrated that cast correction of clubfoot not only helps dramatically during childhood, but also in adulthood.
After serial cast treatment, many children require heel cord lengthening surgery to complete the correction. This is usually done when the child is a few months of age.
Surgical Correction
In more severe case, a more complete operation (posteromedial release) is required and is most commonly performed from age 4-12 months. Because clubfoot is a serious orthopedic condition, some children will require additional foot operations as they grow.
Individualized education and support is provided by a specially trained nurse practitioner who meets with each family and helps them to better understand the treatment available for the child's disorder.
For more information on this program, please contact (888) 770-2462.