CHOC Institutes :: Orthopaedic Institute - Spine Center
The CHOC Spine Center
Program Director: Afshin Aminian, M.D.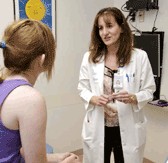 A Comprehensive Approach to Spine Disorders
The CHOC Spine Center is the first and only regional center of its kind to offer a comprehensive team of multidisciplinary experts dedicated to the diagnosis and treatment of complex spine disorders in children and adolescents. Highly experienced pediatric orthopaedic surgeons, neurosurgeons, neurologists, rheumatologists and pulmonary specialists team up to provide our patients a complete range of clinical, surgical and ancillary support services in one convenient setting.
From developing simple treatment plans to correcting the most complex spine curvature, the multidisciplinary team diagnoses and treats a wide range of patients with spinal deformities. The Spine Center provides diagnosis, nonoperative and surgical treatment of complex and routine spinal deformities and conditions. We also offer secondary scoliosis screening and surgical second opinions.
Conditions Treated:
Congenital spinal deformities
Neuromuscular spinal deformities
Early onset scoliosis
Adolescent idiopathic scoliosis
Syndromic scoliosis
Kyphosis / kyphoscoliosis
Spondylolysis / spondylolisthesis
Back pain
Tumors
Spine trauma
Close Contact with Referring Physicians
The clinical staff at the center is dedicated to remaining in close contact with referring physicians, and provides each physician with a report and updates following observation and treatment. At CHOC, referring physicians are an integral part of the treatment team — and patients are always sent back to their own physicians once treatment is complete.
Please bring prior any X-rays and/or diagnostic work-ups to the first appointment with our affiliated orthopaedic specialists.
Spinal Disorder Treatment Options
Treatment options at The CHOC Spine Center range from latest muscle balancing techniques for the treatment of back pain and scoliosis to state-of-the-art surgical options.
Observation and Bracing
Our specialists take a conservative approach to managing scoliosis, first observing and then prescribing bracing if necessary. The treatment team includes orthotists with extensive background in manufacturing the latest braces — which are designed to stop the progression of the spinal curve.
Surgical Intervention
The CHOC Spine Center provides patients access to a full range of treatment options in a setting specially designed to treat kids and teens undergoing spine surgery. Pediatric orthopaedic surgeons utilize the latest techniques such as growing rods and spinal stapling to preserve growth while correcting the curvature, and minimally invasive techniques using thoracoscopic-assisted spinal surgery. The surgeons use the most advanced surgical methods for the correction of spinal deformities. The patient's spinal cord is monitored continuously throughout the surgical procedure, and an autologous blood recovery system is used to minimize post-operative blood transfusions.
Unparalleled Postoperative Care
Patients receive post-operative care in our state-of-the-art pediatric intensive care unit (PICU.) The PICU team of critical care specialists has extensive experience caring for spinal surgery patients, while providing expert recovery management in a compassionate and nurturing environment.
Rehabilitation
Pediatric-trained physical therapists provide exercise programs and other physical therapy methods that address the pain and muscular imbalance that can be associated with spinal conditions or surgical recovery, while maximizing physical function and ability.
Supportive Services
We understand the stress and anxiety that kids and teens face with a hospital stay or treatment. Through our Child Life program, our patients are encouraged to gain an understanding of their hospital experiences by introducing them and their families to the hospital environment, procedure and equipment. Child life specialists work with our patients — from surgery through inpatient recovery — and provide age-appropriate emotional and developmental support to help minimize any anxiety they might be experiencing. Just a few of the other support services available to our patients at CHOC include case management, social services and nutritional support.
Scoliosis Handout
Click here for a handout that describes healthy ways to cope while recovering from surgery
Contact Us
The CHOC Spine Center is a vital resource for children throughout Southern California — offering patients the most advanced treatment options and comprehensive care in a compassionate environment.
For more information on this program, please contact CHOC Institutes at 1-888-770-2462.
Video
Scoliosis Surgery: Preparation


For the two nights right before your scoliosis surgery, you will need to wash your back with a special soap that helps prevent infections. It's called Hibiclens and is available at any pharmacy without a prescription. Because it's really hard to properly scrub your back on your own, you will probably need to have a parent or friend help you. If you have more questions, ask your doctor.
Scoliosis Surgery: Activity & Diet


Dr. Afshin Aminian, Medical Medical Director, CHOC Orthopaedic Institute, explains what to do, and what to eat, after scoliosis surgery at CHOC. Feeling tired all the time is totally normal after scoliosis surgery. So take it easy, and watch this video.
Scoliosis Surgery: What is my room going to look like?


CHOC nurse Meggan offers a quick tour of what the patient rooms look like on our medical and surgical floors at the hospital. If you are having scoliosis surgery, it's what your room might look like.
Scoliosis Surgery: A Dad Shares His Experience


Having scoliosis surgery can be tough on the parents, too. Hear from a real dad of a scoliosis patient, as he shares his story and some helpful tips.
Scoliosis Surgery: Day of Surgery


Child Life Specialist at CHOC Children's shares what you can expect the day of scoliosis surgery. From getting to know our Short Stay Unit, to explaining what happens when you wake up from surgery, Jessica shares the important information.
More Media...
---