CHOC Nursing :: The DAISY Award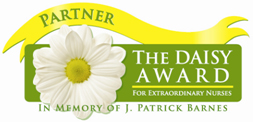 The DAISY Award is part of the DAISY Foundation's program to recognize the super-human efforts nurses perform everyday. One day every other month, a nurse is selected by CHOC's DAISY Award Committee to receive The DAISY Award.
The not-for-profit DAISY Foundation, based in Glen Ellen, CA, was established by J. Mark Barnes and his family in memory of his son J. Patrick Barnes who died at the age of 33 in late 1999 from complications of Idiopathic Thrombocytopenic Purpura (ITP), a little known but not uncommon auto-immune disease. The care Patrick and his family received from nurses while he was ill inspired this unique means of thanking nurses for making a profound difference in the lives of their patients and patient families.
The gifts each nurse receives are made possible by the DAISY Foundation and Wells Fargo, our co-sponsor.
One day every other month, a nurse is selected by CHOC's DAISY Award Committee to receive The DAISY Award. At a presentation given in front of the nurse's colleagues, the honoree receives a handsome certificate commending her or him for being an "Extraordinary Nurse." The certificate reads: "In deep appreciation of all you do, who you are, and the incredibly meaningful difference you make in the lives of so many people." Each DAISY honoree also gets a very meaningful sculpture entitled "A Healer's Touch." Each is hand-carved from serpentine stone by a member of the Shona tribe in Zimbabwe and symbolizes the intimate relationship of nurses and patients.. The recipient also receives a DAISY Award pin. On the same day, The DAISY Foundation delivers Cinnabon® cinnamon rolls to all nurses in the unit to celebrate the tremendous teamwork required to deliver the quality of care CHOC patients receive. Cinnabons had always been a favorite of Patrick's, and when he was ill he frequently asked his father to bring them to the nurses as his way of saying thanks.
"When my step-son Patrick was critically ill, my family and I experienced first-hand the remarkable skill and care nurses provide acutely ill patients every day and night. Yet these unsung heroes are seldom recognized for the super-human work they do," said Bonnie Barnes, Co-founder, President of The DAISY Foundation. "The kind of work the nurses at CHOC are called on to do every day epitomizes the purpose of The DAISY Award." CHOC is among nearly 1,000 healthcare facilities internationally committed to honoring nurses with The DAISY Award all year long.
In addition to The DAISY Award, the Foundation funds the J. Patrick Barnes Grants for Nursing Research and Evidence-based Practice Projects and honors nursing faculty with its DAISY Faculty Award program. More information is available on their website, www.DAISYfoundation.org.



Click here to nominate a nurse for the DAISY Award.