The CHOC Children's Neuroscience Institute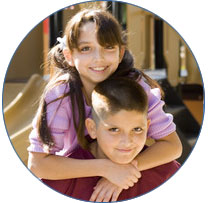 At the CHOC Neuroscience Institute, we specialize in bringing hope to patients and their families living with complex neurological disorders. Rated as one of Child Magazine's top Children's Hospitals, we are dedicated to nurturing, advancing and protecting the health and well-being of all children and are at the forefront in the diagnosis and treatment of childhood and adolescent neurological conditions.
Specialized Expertise
As Orange County's only hospital exclusively committed to the health and well-being of pediatric and adolescent patients, every service and program is devoted to young people. Our clinical and support staff are specifically trained in the care of children. This includes Pediatric-trained Neurosurgeons, Board-certified pediatric Neurologists, Social Workers, Physical Therapists, Dieticians, Nurses and Nurse Practitioners, Child Life Specialists and Case Managers.
Our experience in treating children exclusively makes us experts in the evaluation and treatment of all types of childhood and adolescent neurological disorders. This expertise is reflected in our extensive baclofen pump program, the only regional, dedicated pediatric Neuroscience inpatient unit, and one of only a handful of epilepsy programs in the country providing continuous care for infants through adolescence. Childhood and adolescent neurological disorders we commonly treat at the CHOC Neuroscience Institute include:
Epilepsy and other seizure disorders
Brain / Central Nervous System Tumors
Hydrocephalus
Attention disorders (ADHD)
Craniosynostosis
Headaches
Autism
Movement disorders
Deformational or positional plagiocephaly
Cerebral Palsy/Spasticity
As the largest and most comprehensive neuroscience center in the region, the CHOC Neuroscience Institute and its pediatric specialists provide a full range of dedicated services:
Only regional pediatric neuroscience unit
24 - bed neuroscience unit
24 - bed pediatric intensive care unit (PICU)
54 - bed neonatal intensive care unit (NICU)
Long-term video EEG lab
Outpatient Epilepsy and Neurology Center

Personalized Care
At the CHOC Neuroscience Institute, we believe every patient is unique. We work in close partnership with referring physicians to ensure that your access to the CHOC Neuroscience Institute is timely and direct. As well, you and your child will work with a pediatric-trained neuroscience Nurse Coordinator who will work with you throughout your child's treatment. The CHOC Neuroscience Institute's Nurse Coordinator serves as an advocate for you and your child, attends all case conferences, facilitates patient appointments, ensures seamless care between inpatient and outpatient areas, coordinates discharge planning and family education.
Once an appointment is made through a referral from your primary care physician or specialist, your child may undergo several diagnostic tests to help our specialists make or confirm a diagnosis. We offer consultations for:
Evaluation of newly diagnosed neurological disorders
Management of current neurological disorders
Physician-to-physician consultations
Second Opinions
Innovative Programs
In order to accurately diagnose and effectively treat each patient, we have designed innovative, specialized programs for on-going diagnosis, management and treatment of pediatric neurological disorders.
Epilepsy Program
Down Syndrome Program
Neuro-muscular Program
Neuro-oncology Program
Supportive Environment
When your child is ill and needs hospitalization, you and your entire family are affected. The CHOC Neuroscience Institute believes in allowing a child to be a child and creating a sense of normalcy through play, discovery and creativity. We offer the most comprehensive child-life and family support programs in the region and are committed to promoting the fullest developmental potential of each child.
Parent support groups
School and Social Re-integration Program
Rehabilitation services
Complementary / Alternative Medicine program
Contact Us
Contacting the CHOC Neuroscience Institute is easy. We are also available to provide second opinions for patients with newly diagnosed or recurrent neurological disorders. You will be asked to bring your medical records with you.
For neurology and epilepsy consultations, please contact the CHOC Epilepsy Center and Neurology Clinic at (714) 509-7986.
Video
Derek's Story


30 second commercial depicting CHOC patient Derek who came to us with water on the brain, and now, thanks to an advanced surgical procedure, he's back in the pool.
Sports Concussions


Dr. Koutures, Pediatric and Sports Medicine Specialist at CHOC Children's, discusses concussions and gives advice on to do when parents see signs of concussions.
About Concussion: Dr. Koutures, CHOC Children's


In this segment from American Health Journal, Chris Koutures, MD, give more information on concussion and explains the difference between a little bump on the head and a concussion.
Dr. Zupanc, CHOC Children's - Epilepsy


In this segment from American Health Journal, Mary Zupanc, MD, explains the condition of epilepsy.
Dr. Zupanc, CHOC Children's - Children and Tics


In this segment from American Health Journal, Mary Zupanc, MD, provides background on what a tic is and explains the different types of tics.
More Media...
---
News and Announcements

Pressroom
|

Press Release Archive