CHOC Pressroom
August 15, 2012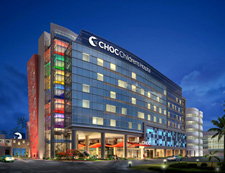 From OC Metro
Published: August 13, 2012
by Caitlin Adams
CHOC Children's has launched a pilot study into advanced cancer care at its Hyundai Cancer Institute. As part of that study, the facility has incorporated a new genome sequencing service for cancer samples, Illumina RapidTrack Whole Genome Sequencing (WGS). The program is the first to implement this service as means of enhancing cancer treatment.
The new children's hospital in Orange has designed the study to advance personalized treatment and care for children and teens suffering from recurrent strains of cancer. Dr. Leonard Sender, medical director of the Hyundai Cancer Institute and principal investigator of the study, said the hospital aims to be at the forefront of pediatric cancer services.
"We want to be a game changer for patients and their families who are faced with the scary diagnosis of recurrent cancer. Eighty percent of pediatric cancers are cured, which is wonderful, but we can't forget about the 20 percent who aren't," Sender said. "That vulnerable group is the focus of our efforts, and we are dedicated to providing them with answers and effective treatment as quickly as possible."
The RapidTrack WGS service allows the Institute to collect whole genome sequencing data within 14 days, the fastest sample-to-data turnaround time available in genome sequencing. The collected data is then sent to the Translational Genomics Research Institute (TGen), a partner of the Hyundai Cancer Institute and collaborator in the study. TGen will analyze the data and provide CHOC's physicians and researchers on the hospital's Molecular Profiling Board with customized reports and evaluations.
Sender acknowledged Hyundai Motor America's contributions to CHOC Children's programs, saying that grants provided through the Hyundai Hope on Wheels fundraisers have funded life-saving research.
"The ability to rapidly translate samples to data in the lab will have an immediate bedside impact by offering more accurate diagnoses and personalized treatments that save children's lives."