June 12, 2012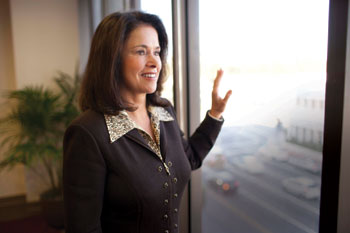 From www.ocexecutive.com
The Executive Lifestyle Magazine of Orange County
The well-being of others has long been a priority for Kim Cripe. As the CEO of Children's Hospital Orange County, Kim leads one of OC's most crucially important organizations with a plan that focuses just as heavily on the compassion for its little patients and their families as it does on traditional aspects such as teamwork and business savvy. While this strategy reflects Kim's terrific success as a leader, it also allows plenty of room for her to be a student, as the courage and resilience that she encounters from CHOC's children on a daily basis serves as a vital inspiration for her continued professional growth.
OC Executive recently caught up with Kim to discuss her love of science, her indomitable passion for assisting others, the synergy that exists between the two fields, and the many ways in which her unique surroundings promotes development and motivation.
OCE: What did you want to be as a kid?
KC: As a young child, I was drawn to animals. I was fascinated by lions, zebras and horses. I wanted to be a lion tamer, a veterinarian and an astronaut.
OCE: What was your first job?
KC: My first job was a summer camp counselor.
OCE: How many industries have you been a part of?
KC: My professional career has been focused on healthcare – an industry I love. In fact, my first job out of college was serving as the Director of Marketing and Public Relations at University Community Hospital, a 404-bed, nonprofit hospital in Tampa, Florida.
OCE: When did you figure out what you wanted to do?
KC: In high school, I gravitated towards science. In college, my interest in science continued; however, I became interested in business as well.
OCE: When did you feel that you "made it" as an executive?
KC: I was fortunate to experience upward mobility early in my career. However, the more experience I have as an executive the more I realize how much more there is to learn and master. It's a journey, not a destination.
OCE: What do you enjoy most about what you do now?
KC: The people I work with and the opportunity to give back.
OCE: What would you want to do if you weren't doing what you do now?
KC: I'd be a physician.
OCE: Is there a person or people that inspire you to remain at the top of your game?
KC: I am inspired by the dedication of our physicians, nurses, staff, and volunteers. They are engaged in a passionate pursuit to provide the safest, most advanced care for children, and will stop at nothing to heal and find cures for pediatric patients. Our volunteers, particularly our Board Members, are a source of constant inspiration to me. These dedicated community members and leaders give so generously of their time, expertise and resources. I am also inspired by the courage of our patients. When I walk though our Neonatal Intensive Care Unit, for example, and see the tiniest, most fragile newborns fight for their lives, I am motivated to work even harder.
OCE: What are your favorite hobbies?
KC: Outdoor activities, including running, walking, hiking and gardening. I also love to ride my horse, spend time with my family, and read.
OCE: Where is the one city/country you love to travel to?
KC: I'd love to travel to Africa.
OCE: If there would be anything you would love to own, what would it be and why?
KC: Nothing really. If I were extravagant, I'd love a helicopter to get around Southern California and my commute quickly.
OCE: What is the one thing you do own that reminds you of your success?
KC: A home.
OCE: What is your one guilty pleasure?
KC: I love chocolate – day or night!