May 02, 2012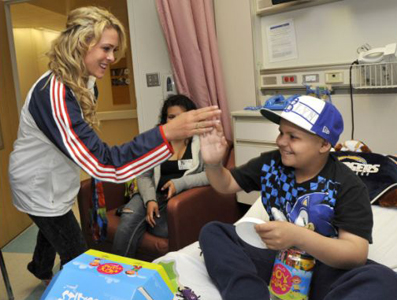 Published May 2, 2012
From The Orange County Register
By ERIKA I. RITCHIE / THE ORANGE COUNTY REGISTER
ORANGE – Trevor Roach's eyes lit up and a smile beamed across his face when he pulled an Angels sticker from a Joy Jar handed to him by Olympic gold medalist Kaitlin Sandeno.
"They're my favorite team," the 12-year-old boy from Anaheim said. "And I never met an Olympic swimmer before either. I think it's cool they care about me. If I was an Olympic swimmer I'd be practicing all the time to get a gold medal."
Trevor received a bone marrow transplant four days ago to battle AML leukemia. He was one of at least 60 children on the oncology and hematology ward at Children's Hospital of Orange County on Tuesday who got Joy Jars from Sandeno and her former teammate, Olympic gold medalist Jason Lezak. Three other swimmers, Chloe Sutton, Chad La Tourette and Ashley Twichell from Team USA, also met with the children.
Watch video of the Olympians at CHOC.
The Joy Jars – stuffed with age-appropriate things such as stickers, books, games and playing cards – were presented to the children thanks to the Jessie Rees Foundation, formerly the NEGU Foundation.
NEGU was founded by Jessie Rees, of Rancho Santa Margarita, last year after the 12-year-old was diagnosed with brain cancer. The letters stand for Never Ever Give Up. That will forever be the foundation's motto, said Erik Rees, Jessie's father. Jessie Rees died in January after a 10-month battle with cancer. The foundation's name was officially changed on April 8, which would have been Jessie's 13th birthday.
Jessie, with help from her parents, family and friends, created the Joy Jar concept and the foundation to help make young cancer patients' lives a little happier and easier. To date, the foundation has created more than 10,000 Joy Jars for children throughout the world.
Jessie inspired tens of thousands of Facebook fans around the world. She turned her illness into a chance to rally for other kids with cancer.
The Joy Jar giveaway at CHOC coincided with the start of a month-long awareness of brain tumors, Erik Rees said. The group has set a goal of handing out 50,000 Joy Jars this year. They already work with 130 children's hospitals nationwide and 175 Ronald McDonald Houses. Joy Jars have also been shipped to children's hospitals in Germany, Canada, India and South Africa.
Jody Pathare, a neuro-oncology nurse practitioner, cried when she saw the Olympic swimmers hand-delivering the jars to each child. The swimmers autographed the jars at the children's request. They also let them hold their gold medals. It was all pretty cool, but Pathare said she's never forgetten the huge impact Jessie made when she brought Joy Jars in.
"Even when she was sick, she'd come and deliver them and the kids would get so excited," Pathare said. "The name is so perfect for them. It's ironic "Joy" was her middle name. Jessie never felt bad for herself; she wanted others to feel better. As children, there's just something so pure, innocent and unselfish about them."
Sandeno, 29, recently took part in "Joy Splash" a swim fundraiser in Irvine for the Jessie Rees Foundation. She also helped stuff the 10,000th jar on April 16 at the Joy Factory in Rancho. The visit to CHOC was the first time she had a one-on-one meeting with the children.
"It's life-changing," said Sandeno, of Lake Forest, her eyes misty. "I've been anticipating this day. I knew I'd come here and have a heavy heart but I didn't want to cry. I was trying to bring them all smiles and joy."
When Ivonne Hernandez, 14, opened her Joy Jar, she was thrilled to see a cheetah-pen, a troll and an orange hair band.
"These are so cool," she said, as she dug around for more prizes.
Ivonne came to the hospital Sunday after having incredible pain in her foot. The young soccer player from Anaheim said she'd had pain there for months.
"At first I thought it was a bruise but massages and ice packs didn't help," she said, glancing over to her mother who lay in a little cot at the side of the room. "Then my foot got really swollen and hurt really bad. My mom wanted me to go to the doctor but I didn't want to."
On Sunday, she was at the beach with her family when she said her pain became so bad that she couldn't stand on her foot.
After a visit to the ER, she was quickly admitted. She's gone through MRIs, blood tests and is waiting to have a biopsy.
"I'm kind of scared cause I don't know what I have," she said. "I'm praying I don't have anything bad."
Contact the writer: 949-454-7307 or eritchie@ocregister.com