February 06, 2012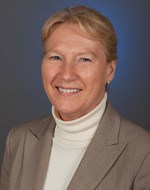 CHOC Children's announces the appointment of Louise White, B.S.N., M.H.A., to the position of vice president, patient care services and chief nursing officer. White joins an award-winning CHOC culture of providing the highest standards of nursing practice, quality of care and overall patient safety.
"I am honored to join CHOC, a hospital with a passionate commitment to providing the highest quality medical care to all children," said White. "I look forward to supporting its efforts to becoming one of the safest and healthiest places for children in the nation."
White has 21 years of experience as a nurse leader. Most recently, she served as chief nursing officer & vice president, Healthcare Services at Eisenhower Medical Center, a not-for-profit 542-bed facility in the Coachella Valley. During her tenure, she completed numerous complex construction projects, including a 44-bed emergency room (ER); a 200-bed pavilion; a 24-bed VIP inpatient unit; and designs for an integrated heart and vascular center. In addition, she helped the facility achieve multiple accreditations, and advanced nursing practice through the implementation of a professional development department providing multi-educational and internship programs. White also led efforts to reduce the length of stay in the Eisenhower emergency room, resulting in a dramatic increase in patient satisfaction scores from the 20th percentile to the 85th percentile. Under her leadership, the hospital's overall patient satisfaction scores increased from the 17th percentile to the 85th percentile, based on the Press Ganey measurement of outcome and performance. White's leadership was integral to Eisenhower's selection as the recipient of "The Gallup Great Workplace Award" in 2010.
Prior to Eisenhower, White was a vice president with Memorial Health Services and was the executive leader for the Memorial Care Cardiovascular Serviceline in Long Beach and across the system. She began her nursing career in Edinburgh, Scotland as a staff nurse, followed by working as a cardiac nurse specialist. She holds a master's degree in healthcare administration and a bachelor's degree in nursing.

Named one of the best children's hospitals by U.S. News & World Report (2014-2015) and a 2013 Leapfrog Top Hospital for the highest quality of care, Children's Hospital of Orange County (CHOC Children's) is exclusively committed to the health and well-being of children through clinical expertise, advocacy, outreach, education and research that brings advanced treatment to pediatric patients. Affiliated with the University of California, Irvine, CHOC's regional health care network includes two state-of-the-art hospitals in Orange and Mission Viejo, many primary and specialty care clinics, a pediatric residency program, and four clinical centers of excellence - the CHOC Children's Heart, Neuroscience, Orthopaedic and Hyundai Cancer Institutes..

CHOC earned the Gold Level CAPE Award from the California Council of Excellence, the only children's hospital in California to ever earn this distinction, and was awarded Magnet designation, the highest honor bestowed to hospitals for nursing excellence. Recognized for extraordinary commitment to high-quality critical care standards, CHOC's Pediatric Intensive Care Unit (PICU) is the first in the United States to earn the Beacon Award for Pediatric Critical Care Excellence.
###
Media Contact:
Monica Garcia, Sr. Public Relations Specialist
phone: (714) 289-4183
email: pr@chocchildrens.org