May 17, 2011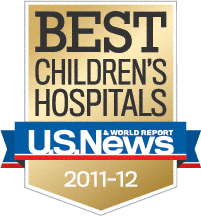 Children's Hospital of Orange County (CHOC Children's) has been ranked in eight specialties in U.S. News Media Group's Best Children's Hospitals rankings, now available online at www.usnews.com/childrenshospitals. With more than 200 children's hospitals in the nation, these top rankings place CHOC Children's among an elite group.
Specifically, CHOC Children's ranked 28th in cancer; 33rd in diabetes and endocrinology; 44th in gastroenterology; 39th in neonatology; 41st in neurology and neurosurgery; 45th in orthopedics; 43rd in pulmonology; and 48th in urology.
"We salute CHOC Children's," said Health Rankings Editor Avery Comarow. "The goal of the Best Children's Hospitals rankings is to call attention to pediatric centers with the expertise to help the sickest kids, and CHOC Children's is one of those centers."
The new rankings recognize the top 50 children's hospitals in 10 specialties: cancer, cardiology and heart surgery, diabetes and endocrinology, gastroenterology, neonatology, nephrology, neurology and neurosurgery, orthopedics, pulmonology, and urology.
Now in its fifth year, Best Children's Hospitals pulls together clinical and operational data from a lengthy survey, completed by the majority of the nearly 180 hospitals asked to participate for the 2011-12 rankings. The survey asks hundreds of questions about survival rates, nurse staffing, subspecialist availability, and many more pieces of critical information difficult or impossible for those in charge of a child's care to find on their own. The data from the survey is combined with recommendations from pediatric specialists on the hospitals they consider best for children with challenging problems.
For the full rankings and methodology, visit www.usnews.com/childrenshospitals.
Named one of the best children's hospitals by U.S. News & World Report (2014-2015) and a 2013 Leapfrog Top Hospital for the highest quality of care, Children's Hospital of Orange County (CHOC Children's) is exclusively committed to the health and well-being of children through clinical expertise, advocacy, outreach, education and research that brings advanced treatment to pediatric patients. Affiliated with the University of California, Irvine, CHOC's regional health care network includes two state-of-the-art hospitals in Orange and Mission Viejo, many primary and specialty care clinics, a pediatric residency program, and four clinical centers of excellence - the CHOC Children's Heart, Neuroscience, Orthopaedic and Hyundai Cancer Institutes..

CHOC earned the Gold Level CAPE Award from the California Council of Excellence, the only children's hospital in California to ever earn this distinction, and was awarded Magnet designation, the highest honor bestowed to hospitals for nursing excellence. Recognized for extraordinary commitment to high-quality critical care standards, CHOC's Pediatric Intensive Care Unit (PICU) is the first in the United States to earn the Beacon Award for Pediatric Critical Care Excellence.
###
Media Contact:
Denise Almazan, Director of Public Relations
phone: (714) 509-8680
email: pr@chocchildrens.org