CHOC Patients & Family :: Patient and Family-Centered Care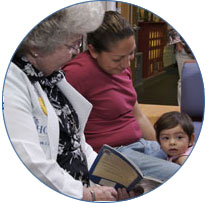 What is "Family"?

In the family-centered approach with pediatrics, the definition of family, as well as the degree of the family's involvement in healthcare, is determined by the patient's parents or guardians.
Vision Statement

"We aspire to partner with children and families to deliver what matters to them."
Four Guiding Principles to Patient and Family-Centered Care
Dignity and Respect
Healthcare Providers listen & honor patient/family perspectives & choices. Family knowledge, values beliefs & cultural backgrounds are incorporated into care planning & decision making.

Information Sharing
Healthcare Providers communicate and share complete and unbiased information.
Communication is timely, accurate & presented in affirming and useful ways.

Participation
Patients and families are encouraged and supported in participation in care and decision-making at any level they choose.

Collaboration
Patients, families and providers collaborate in policy & program development, implementation and assessment in healthcare facility design, professional education, as well as the delivery of care.