Heart Institute
CHOC Children's Heart Institute: Leading the way in pediatric cardiac care.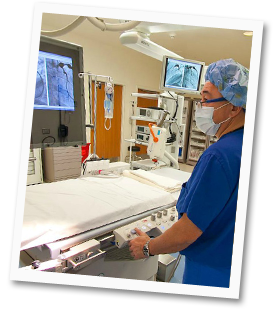 The CHOC Children's Heart Institute is the only pediatric-dedicated facility in Southern California offering the latest in advanced cardiac care.
The CHOC Children's Heart Institute offers state-of-the-art diagnosis and treatment for an entire spectrum of cardiac conditions all in one convenient, family friendly location. Moreover, it is the only pediatric-dedicated facility in Southern California offering the latest in advanced cardiac care, and is the only regional facility to perform neonatal and pediatric open heart surgery. CHOC has assembled a multi-disciplinary team, specially trained in the management of infants and children with congenital heart defects.
The CHOC Children's Heart Institute Difference
In addition to being experts in the cardiac care of pediatric patients, we are dedicated to providing compassionate patient- and family-centered care. At CHOC, it is important that our patients still feel and act like kids and that their families get the support they need to focus on what is most important: patient recovery.
Once diagnosed, each patient is followed by a pediatric cardiovascular nurse practitioner who serves as an advocate the child, attends all case conferences, facilitates patient appointments and ensures seamless care between inpatient and outpatient treatment. Additionally, the child's specialist works closely with each patient's family so that they fully understand the type and length of treatment the child will undergo and why the treatment is the best option of the patient. Our specialists also work closely with the child's referring physician to ensure that there is coordination of care as well as close communication. At the Heart Institute, we believe that the referring physician and the child's parents are important members of the child's treatment team and long-term care. Learn more about our commitment to patient- and family-centered care.
State-of-the-art pediatric cardiac care
Most people only think of middle-aged adults or the elderly as being affected by heart disease; however, nine out of every 1,000 babies born in the United States are born with a congenital heart abnormality. Several studies suggest that in order to prevent death in the first year of life, 2.3 per 1,000 live births require some sort of invasive treatment for a congenital heart defect. Nearly one million people living in the US were born with a congenital heart defect.
At CHOC Children's, we are experts in treating children with a variety of heart problems and offer the very latest in both diagnosis and treatment of heart problems and proudly offer:
Implantable cardioverter defibrilators and pacemakers with remote monitoring capabilities.
Interventional cardiology.
For a complete list of all of our outstanding pediatric-focused cardiology programs, click here.
Video
Pediatric Heart Conditions: Dr. Berdjis, CHOC Children's


Farhouch Berdjis, MD, pediatric cardiologist, explains about pediatric cardiac catheritization, a comon procedure that helps diagnosis heart problems in chldren.
Ashley Zook, RN


Ashley Zook explains how CHOC gives parents power by showing them where they can touch their child, whether a hand or a toe, or letting them feed and hold their babies.
Why Come to CHOC


CHOC physicians, patients and their families talk about how CHOC provides expert pediatric care. Includes stories from our Heart, Neuroscience, Cancer and Critical Care programs.
Sudden Cardiac Arrest Conference: Dr. Batra, CHOC Children's Cardiology


In this video Anjan Batra, MD, FHRS, tells us about the upcoming "Sudden Cardiac Arrest in Children and Adolescents - Current Controversies" conference January 25-26, 2013.
What I Like Most About Being a Pediatric Physician: Dr. Gates


Dr. Richard Gates shares with us how he likes interacting with patients and families.
More Media...
---
Upcoming Events

More Events
News and Announcements

Pressroom
|

Press Release Archive
Articles From the Blog
Visit our Blog for the most recent articles from the experts at CHOC Children's