Heart Institute
CHOC Children's Heart Institute: Leading the way in pediatric cardiac care.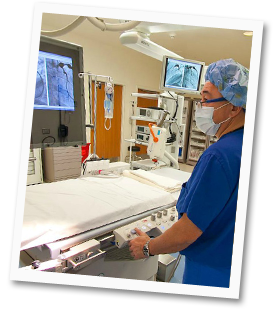 The CHOC Children's Heart Institute offers state-of-the-art diagnosis and treatment for an entire spectrum of cardiac conditions all in one convenient, family friendly location. Our services include revolutionary radiation-free electrphysicology, as well as neonatal and pediatric open heart surgery, a specialized intensive care unit for our heart patients and much more.
CHOC has assembled a multi-disciplinary team, specially trained in the management of infants and children with congenital heart defects. Our heart team includes pediatric cardiologists, cardiac surgeons, cardiac intensivists, anesthesiologists, perfusionists, cardiovascular nurse practitioners, respiratory therapists, dieticians, social workers, child life specialists and case managers, all with specialized cardiac training and experience. Our specialists work together as a team to discuss each child's case and determine the best course of treatment. We also offer expert rehabilitation, psychosocial support and the very latest complementary and alternative medicine services.
What we treat
Most people only think of middle-aged adults or the elderly as being affected by heart disease; however, nine out of every 1,000 babies born in the United States are born with a congenital heart abnormality. Several studies suggest that in order to prevent death in the first year of life, 2.3 per 1,000 live births require some sort of invasive treatment for a congenital heart defect. Nearly one million people living in the US were born with a congenital heart defect.
At CHOC Children's, we are experts in treating children with a variety of heart problems and offer the very latest in both diagnosis and treatment of heart problems and proudly offer:
Heart surgery for children of all ages--from newborns to young adults.
Cardiovascular intensive care.
Expert diagnostics for diagnosing complicated heart issues.
Cardiac catheterization.
Implantable cardioverter defibrilators and pacemakers with remote monitoring capabilities.
Interventional cardiology.
State-of-the-art pediatric cardiac care programs
Children are not tiny adults and their health care needs, especially cardiac concerns, should be diagnosed and treated by specialists who understand the needs of children. Our nationally recognized cardiac experts exclusively evaluate and treat newborns, infants, children, teens and young adults with all types of heart problems.
The Heart Institute features specialized programs in
Heart surgery
Congenital heart defects
Cardiac intervention and catheterization
Fetal cardiodiagnostics
Heart failure
Pediatric cardiopulmonary (CPX) and pulmonary function (PFT) testing
Sports cardiology
Onco-cardiology
Preventive pediatric cardiology issues related to obesity, hypertension and lipid management
Electrophysiology with a dedicated Arrhythmia Device Center that offers pacemaker checks, implantable loop recorders and Holter monitors.
Because kids are our specialty at CHOC Children's, we strive to provide family- and patient-centered care that focuses on treating each child's heart condition while always allowing the child to be a child and being mindful of the child's future health and well-being. It is important that our patients still feel and act like kids and that their families get the support they need to focus on what is most important: patient recovery.
Once diagnosed, each patient is followed by a pediatric cardiovascular nurse practitioner who serves as an advocate for the child, attends all case conferences, facilitates patient appointments and ensures seamless care between inpatient and outpatient treatment. Each patient's care team also includes additional certified pediatric cardiac clinical staff, pediatric cardiac nurse practitioners and social workers who work together to provide the child seamless care, patient education and family support. Because parents are a child's best expert, our specialists work closely with each child's parents or legal guardians throughout the diagnosis and treatment process to create the best treatment plan possible for the child. Working as a team with the child's family also allows our specialists to help families better understand the type and length of treatment the child will undergo and why the treatment is the best option of the patient. Our specialists also work closely with the child's referring physician to ensure that there is coordination of care as well as close communication. At the Heart Institute, we believe that the referring physician and the child's parents are two very important members of the child's treatment team and long-term care.
We are also dedicated to providing families and patients with the resources needed so that kids can be kids while they are patients in our Cardiovascular Intensive Care Unit, as we believe that play and discovery are very important in the treatment and recovery process. We proudly offer:
Counseling and Support
Child Life Specialists
Complimentary and Alternative Medicine
Rehabilitation Services
Video
Medical Devices and and the Future of Medicine: Dr. Chang, CHOC Children's


Dr. Anthony Chang, Medical Director of the CHOC Childrens Heart Institute, informs us about new medical devices and applications and why the next 25 years of medicine is so exciting. Join us for the Pediatrics 2040: Trends and Innovations for the Next 25 Years, October 3- 5,2013.
Why I Got Into Medicine: Dr. Berdjis


Dr. Farouch Berdjis reveals why he became interested in practicing medicine.
Pediatric Heart Conditions: Dr. Berdjis, CHOC Children's


Farhouch Berdjis, MD, pediatric cardiologist, explains about pediatric cardiac catheritization, a comon procedure that helps diagnosis heart problems in children.
The future of valve replacement: Dr. Berdjis - CHOC Children's Cardiology


Dr. Farhouch Berdjis tells us what the future has in store for valve replacement, with more research and development to come.
Pediatric Cardiology - Dr. John Cleary


In this segment from American Health Journal, Dr. John Cleary discusses modern developments in pediatric cardiology.
More Media...
---
Upcoming Events

More Events
News and Announcements

Pressroom
|

Press Release Archive
Articles From the Blog
Visit our Blog for the most recent articles from the experts at CHOC Children's