Give to CHOC :: The Harry Winston Hope Collection™ Charm & CHOC Children's
THE HOUSE OF HARRY WINSTON, INC.
continues the gift of giving with the launch of the Harry Winston Hope Collection ™ Charm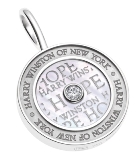 New York, NY. – Following the successful launch of the limited edition Harry Winston Hope Collection™ Bracelet, the House of Harry Winston is pleased to continue the gift of giving in a new, charming way.
Launching spring 2013, the Harry Winston Hope Collection™ Charm features a sleek white gold and engraved mother-of-pearl design set with a delicate Winston diamond at the center, and can be worn as either a pendant, or as part of a charm bracelet.
The Harry Winston Hope Collection™ Charm will be sold exclusively at Harry Winston salons throughout the U.S.
Harry Winston, Inc. will donate 20% of the retail sales price* from each charm sold at the Costa Mesa salon to CHOC Children's.
Support from sales of the Harry Winston Hope Collection™ Charm will provide support for Seacrest Studios, a collaboration between CHOC and the Ryan Seacrest Foundation that aims to positively impact the healing process for children and their families. Seacrest Studios is an interactive media studio within CHOC Children's hospital that empowers young patients to explore the creative realms of radio, television and new media.
The Harry Winston Brilliant Futures Charitable program is dedicated to supporting leading organizations that strive to remove barriers for disadvantaged youth to obtain a quality education and the skills necessary to be successful in life; provide access to cultural and artistic enrichment; and enable healthy futures.
For questions or to reserve your bracelet, please contact Zach Moonitz at zmoonitz@choc.org.
*"Retail sales price" means monies actually collected by Harry Winston or credited to its account from the sale of the Bracelet less returns, taxes and delivery costs.