Getting Here
CHOC Children's Hospital - Main Campus
1201 W. La Veta Ave. | Orange, CA 92868-3874 | (714) 997-3000


Campus Map |

Campus Map (Spanish)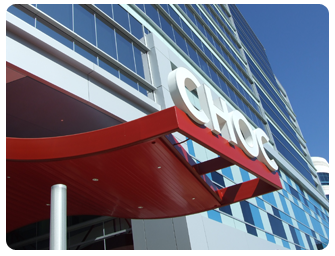 CHOC families and visitors may now check in at the new Bill Holmes entrance
located on Pepper Street (near the intersection of Pepper and La Veta).
Follow the "red carpet" to the parking structure and follow the signs
to reach our new front entrance.
CHOC Commerce Tower
505 S. Main St. | Orange, CA 92868-3874
(at the corner of La Veta & Main Street)


Map
CHOC Children's at Mission Hospital
27700 Medical Center Rd. | Mission Viejo, CA 92691 | (949) 364-1400


Map
CHOC Children's Foundation
mailing address:
1201 W. La Veta Avenue | Orange, CA 92868 | (714) 509-8690


Contact the Foundation
Maps & Directions
Click here for a comprehensive list of all our locations; plus maps, directions, and parking instructions.
Local Area Resources
Click here for our Area Resource Guide, a list of hotels, restaurants and services near the hospital