CHOC Docs
Naser M Elbalalesy, MD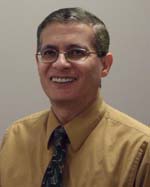 Office and Contact Information
CHOC Children's Neurology Center
1125 W. La Veta Avenue
Suite 125
Orange, CA 92868
phone: (714) 509-7601
fax: (855) 246-2329


map & directions
CHOC Children's Specialists
1201 W. La Veta Ave.
Orange, CA 92868
phone: (714) 509-7601
fax: (855) 246-2329


map & directions
Web Site:
http://www.choc.org/specialists/neurology
---
Physician Bio
Pediatric Neurologist, Naser Elbalalesy, MD, treats the full spectrum of pediatric neurological conditions and disorders, with special interest in epileptology, seizures, anticonvulsant therapies, headaches, including migraines, and ADHD. He is Board Certified by the American Board of Psychiatry and Neurology in the specialty of Neurology with Special Qualification in Child Neurology.
Dr. Elbalalesy completed his fellowship training in epilepsy and clinical neurophysiology at the University of Virginia Medical Center in Charlottesville, Virginia. He completed his residency at Overlook Hospital in Summit, New Jersey, a teaching affiliate of Columbia University College of Surgeons and Physicians. He also completed a pediatric neurology Residency at the University of Mississippi Medical Center. Dr. Elbalalesy attended medical school at Tanta University in Tanta, Egypt.
---
Education
Fellowship
Training in epilepsy and clinical neurophysiology at the University of Virginia Medical Center in Charlottesville, Virginia
Residency
Residency at Overlook Hospital in Summit, New Jersey, a teaching affiliate of Columbia University College of Surgeons and Physicians. He also completed a pediatric neurology Residency at the University of Mississippi Medical Center
Medical School
Tanta University in Tanta, Egypt
Board Certifications