CHOC Docs
Bassam S Younes, MD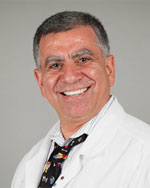 Office and Contact Information
CHOC Children's Specialists
1201 W La Veta
Orange, CA 92868
phone: (714) 509-4099
fax: (714) 509-4299


map & directions
Web Site:
http://www.choc.org/specialists
---
Physician / Researcher Bio
Bassam Younes, M.D. has worked at CHOC Children's since 2001. He earned his medical degree from Semmelweis University School of Medicine in Budapest, Hungary. He did his internship at Apathy Memorial Hospital in Budapest and his residency at Semmelweis University School of Medicine's Pediatric Hospital. Once in the United States, he did a residency at Maimonides Medical Center in New York where he was also pediatric chief resident. He did his fellowship in pediatric gastroenterology, hepatology, and nutrition at the University of California, Los Angeles Children's Hospital. He is a board certified pediatrician and gastroenterologist.
Research
Dr. Younes is dedicated to treating and researching all gastrointestinal disorders. Among his current projects, Dr. Younes is currently coinvestigator in several multi-center studies evaluating the efficacy and safety of new drug treatments for pediatric patients with Crohn's disease. He is also involved with a study evaluating inter acid treatment for inflammatory bowl disease and CHOC's research on anti-Interleukin 5 therapy for the treatment of eosinophilic esophagitis. In the future, he is very interested in doing further research on the treatment of pediatric liver disease.
---
Education
Medical School
Semmelweis University School of Medicine, Budapest, Hungary
Internship
Apathy Memorial Hospital, Budapest, Hungary
Residency
Semmelweis University School of Medicine - Pediatrics
Maimonides Medical Center, Brooklyn, New York - Pediatrics
Maimonides Medical Center, Brooklyn, New York - Pediatric Chief Resident
Fellowship
Pediatric Gastroenterology Hepatology & Nutrition
UCLA Children's Hospital, Los Angeles, CA
Board Certifications
California Board Certified Physician
Honors and Awards
Orange County Medical Association's Physicians of Excellence 2012
Published Works
B.S.Younes, M. E.Ament, S. V. McDiarmid et al The Involvement of the Gastrointestinal Tract in Posttransplant Lymphoproliferative Disease in Pediatric Liver Transplantation. J Pediatr Gastroenterol Nutr, Vol.28,No.4, April 1999.

B.S. Younes,S.V. McDiarmid, M.G.Martin et al The Effect of Immunosuppression on Posttransplant Lymphoproliferative Disease in Pediatric Liver Transplant Patients Transplantation Vol.70,94-99, No.1, July 15, 2000