CHOC Docs
Negar Ashouri, M.D.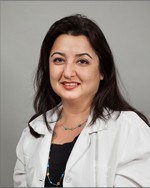 Office and Contact Information
1201 W La Veta
Orange, CA 92868
phone: (714) 509-8403
fax: (714) 509-4014


map & directions
Web Site:
http://www.choc.org/specialists
---
Administrative Appointments
Infectious Disease, CHOC Children's Specialists
Academic Appointments
Assistant Clinical Professor, Pediatrics
UC Irvine School of Medicine
Physician / Researcher Bio
Negar Ashouri, M.D. is board certified in pediatrics and pediatric infectious diseases. She completed medical school At St. George's University School of Medicine in Grenada, West Indies. Dr. Ashouri completed her residency training at Children's Hospital of Orange County, followed by a year as Chief Resident. After doing her fellowship in pediatric infectious diseases at Children's Hospital of Los Angeles, she returned to CHOC where she is currently a pediatric infectious disease specialist with clinical interests in Kawasaki disease and neonatal infections.
Education
Medical School
St George's University School of Medicine, Grenada, West Indies
Pediatrics Residency
Children's Hospital of Orange County, CA
Pediatric Infectious Diseases Fellowship
Children's Hospital of Los Angeles, CA
Board Certifications
Pediatric Infectious Disease
Honors and Awards
Physician of Excellence
OCMA, Multiple years
Research
Currently, Dr. Ashouri is involved in a number of research projects dealing with bloodstream infections and drug trials. She is also part of the Collaborative Antiviral Study Group. To further Dr. Ashouri's research, she maintains an ongoing database of blood cultures and can frequently be found looking back through patient data and charts as she investigates how vaccines impacts infections and specific risk factors for high-risk groups.
Because of Dr. Ashouri's passion for treating and researching pediatric infections diseases she has published widely on the subject and has been invited to speak at numerous conferences on her findings.
Lectures and Presentations
"Six months versus six weeks of oral valganciclovir for infants with symptomatic congenital cytomegalovarius (CMV) disease with and without central nervous system involvement: Results of a randomized, double-blind, placebo-controlled, multinational study"
"Increasing ESBL Infections in Children- an Emerging Pediatric Challenge?"
"Two-Step Process for Clostridium difficile Testing in Pediatric Hematology/Oncology Patients - How Changes in the Lab Effect Patient Care."
"Overlaping seasonality of paraneumonic empyema and bacteremia due to Pneumococcus in Southern California Children, does influenza matter?"
"Safety of Micafungin in Infants less than 90 days of age"
"Micafungin Safety in Pediatric Patients in Clinical Practice"
"Bacteremic Urinary Tract Infection Compared to Primary Bacteremia in Children < 3 months. Is Pyelonephritis a Serious Bacterial Infection?"
"Predictors of Influenza Disease Severity and Resolution in Infants: Results of a National Collaborative Trial."
"Outcome of late onset neonatal sepsis due to bacteremic urinary tract infections."
"Clinical and Laboratory Features of Pertussis During a California Epidemic."
"Impact of intra-abdominal pathology in late onset blood stream infections in neonatal intensive care patients."
"Staphylococcus aureus (S aureus) Bacteremia in Hospitalized Infants Less Than Three Months of Age."
"Streptococcus Pneumoiae Blood Stream Infections (BSI) in Hospitalized Children after Broad Utilizacion of Heptavalente Pneumococcal Conjugate Vaccine (PCV-7)."
"Clinical and Microbiological Factors Affecting Outcome in Hospitalized Children with Candidemia."
"Identification of Factors Affecting Incidence and Outcome of Candidemia in a Neonatal Intensive Care Unit for Developing Prophylaxis Strategies."
Published Works
Kimberlin D, Ashouri N, Acosta E, Prichard M. Oseltamivir Pharmacokinetics, Dosing, and Resistance in Children from Birth to Two Years of Age with Influenza. J Infect Dis. 2013 Mar 207(5):709-20.

Nieves D, Singh J, Ashouri N, Arrieta A, McGuire T, Adler-Shohet F. Clinical and laboratory features of pediatric pertussis disease at the onset of a California epidemic. J. Pediatr 2011. September 16.

Green J, Singh J, Cheung M, Adler F, Ashouri N, Arrieta A. A cluster of pediatric endemic typhus cases in Orange County, California: Case reports and literature review. Pediatr Infect Dis J. 2011 Feb;30(2):163-5

Arrieta A, Ashouri N, Vargas-Sharaishi O, Singh J. Streptococcus pneumoniae Bacteremia in Southern California Hospitalized Children after Implementation of Pneumococcal Conjugate Vaccine. J Pediatr Infect Dis 2011; 6(2) 111-115.

Chuang M, Singh J, Ashouri N, Katz M, Arrieta A. Listeria Meningitis after Influximab Therapy for Ulcerative Colitis. Journal of Pediaric GI and Nutrition 2010 Mar;50(3): 337-9.

Antonio C Arrieta MD, Kathy Shea BA, Vijay Dhar MD, John Cleary MD, Sudeep Kukreja MD, Mindy Morris RNP, Ofelia Vargas-Shiraishi MS, Negar Ashouri MD, Jasjit Singh MD. Once Weekly Liposomal Amphotericin B as Candida Prophylaxis In Very Low Birth Weight Premature Infants; A Prospective, Randomized, Open-Label, Placebo-Controlled Pilot Study. Clinical Therapeutics 2010:32 (2) 265-271