CHOC Docs
Susan J Clark, MD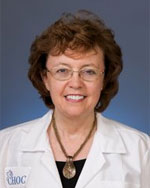 Office and Contact Information
CHOC Children's Endocrine & Diabetes Center
520 Superior Ave., Suite 160
Newport Beach, CA 92663
phone: (949) 631-2062
fax: (877) 390-6590


map & directions
CHOC Children's Specialists
1201 W La Veta
Orange, CA 92868
phone: (714) 509-8634
fax: (714) 509-4049


map & directions
Web Site:
http://www.choc.org/specialists
---
Physician / Researcher Bio
Susan Clark, M.D. is board certified in pediatrics and pediatric endocrinology and diabetes. Dr. Clark is the Medical Director of Endocrinology at CHOC and is the CHOC Children's Specialist Chief of the Endocrinology and Diabetes Division. She has a special interest in thyroid disorders in neonates and children. Dr. Clark completed medical school and her residency at Loma Linda University School of Medicine, and her fellowship at UC San Francisco.
---
CHOC Articles & Publications
Physician Spotlight: Susan Clark, M.D.


On The Mark: February 2007
?It?s no accident when you discover your passion? is how Dr. Susan Clark, M.D., director of the CHOC Division of Endocrinology and Diabetes, describes the moment she decided to become a physician....
Children With "Adult" Diabetes Face Serious Health Risks


Kid's Health (Archive): Winter 2004
Until a few years ago, type 2 diabetes (adult-onset diabetes) was virtually unheard of in children. In 2002, 20 percent of the children newly diagnosed with diabetes at CHOC had the adult form of this...
---
News
More than 80 CHOC Children's Doctors Named "Physicians of Excellence"
January 03, 2012
More than 80 CHOC Children's physicians, including specialists and pediatricians, are named "Physicians of Excellence" by the Orange County Medical Association....
---
Stories

Dr. Clark


Dr. Clark discovered her passion and brought it to CHOC. ...
---