CHOC Docs
Sonal G Patel, MD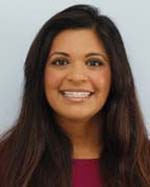 Office and Contact Information
CHOC Children's Specialists
1201 W. La Veta Ave
Orange, CA 92868
phone: (714) 509-7601
fax: (855) 246-2329


map & directions
CHOC Children's Neurology Center
1125 W. La Veta Ave.
Suite 125
Orange, CA 92868
phone: (714) 509-7601
fax: (855) 246-2329


map & directions
---
Education
Clinical Neurophysiology Fellowship
Nationwide Children's Hospital
Child Neurology Residency
Children's Memorial Hospital
Pediatrics Residency
Rush University Medical Center
Medical School
Rush Medical College
Board Certifications
Professional Organizations
American Academy of Pediatrics (AAP)
American Academy of Neurology (AAN)
American Medical Association (AMA)
Child Neurology Society (CNS)
Research Projects
Stanford University/ Forbes Norris ALS/MDA Clinic, California Pacific Medical Center
Clinical trials and laboratory studies involving therapeutic treatments in patients and neuroprotective effects of cannabinoids in primary neuronal cell culture studies with neurologists Robert G. Miller, M.D., Deborah Gelinas, M.D., and Mary Abood, Ph.D.
University College London, Wolfson Centre/Great Ormond St. Hospital for Children
Researched and edited professional and academic presentations and papers for Pediatric Epileptologist, Professor Brian G.R. Neville. Evaluated pediatric neurology patients.
Duke University Medical Center, Dept. of Neuro-Oncology/Neuro-Pathology
Performed chromosome labeling of various brain tumors and image capturing using fluorescent in situ hybridization (FISH) with Sandra Bigner, M.D. and Darrell Bigner, M.D., Ph.D.
Rush North Shore Hospital, Dept. of Surgery and Pathology
Performed immunohistochemical techniques to determine whether a correlation existed between tumor angiogenesis and the morphology and biological behavior of ductal carcinoma in situ (DCIS) with Mark Pool, M.D. and Jose Velasco, M.D.
Northwestern Medical School, Dept. of Neurosurgery
Performed neurosurgical research on rat brain tumors involving the use of the antisense strand and phenylbutyrate treatments and its effects on u-PA after treatments with Herbert Engelhard, M.D.
Published Works
2010 Patel, S. Neurological and Neuromuscular Diseases in Children. Dinner with a Doc Series. Children's Memorial Hospital at Central Dupage Hospital. 2010, April 14. Klein Creek Golf Club, Winfield, IL.

2010 Patel, S. Severe Epilepsies in Children. Epilepsy Expo hosted by Central Dupage Hospital. 2010, February 19. Stonegate Conference Center. Hoffman Estates, IL.

2010 Patel, S. Epilepsy: Types, treatments, and side effects. Teacher Institute for Dupage County Board of Education. 2010, February 26. Lisle, Illinois.

2007 Raizer JJ, Patel S. "Neurofibromatosis type 1." In: Gilman S, editor-in-chief. Medlink Neurology. San Diego: Medlink Corporation. Available at www.medlink.com. Accessed 2007.

2004 Raman C, McAllister SD, Rizvi G, Patel SG, Moore DH, Abood ME. "Amyotrophic lateral sclerosis: Delayed disease progression in mice by treatment with a cannabinoid." Amyotroph Lateral Scler Other Motor Neuron Disord. 2004 Mar;5(1):33-39.

1997 Pool M, Kirson I, Patel S, D'Allessandro S, Hieken TJ, Velasco JM. "Immunohistochemical analysis of angiogenesis in ductal carcinoma in situ of the breast." Abstract presented at The American Association of Cancer's Annual Meeting. San Diego, California.

1996 Homer R, Duncan H, Patel S, Engelhard H. "Sodium 4-phenylbutyrate inhibits proliferation and alters morphology of glioma cells in vitro." Abstract presented at The American Association of Neurological Surgeons. Minneapolis, Minnesota.