CHOC Docs
Anjalee Galion, MD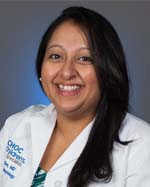 Office and Contact Information
CHOC Children's Neurology Center
1125 W. La Veta Ave.
Suite 125
Orange, CA 92868
phone: (714) 509-7601
fax: (855) 246-2329


map & directions
CHOC Children's Specialists
1201 W La Veta Ave.
Orange, CA 92868
phone: (714) 509-7601
fax: (855) 246-2329


map & directions
Web Site:
http://www.choc.org/specialists/neurology
---
Education
Medical School
New Jersey Medical School, University of Medicine and Dentistry of New Jersey
Pediatric Residency
University of California, San Francisco at Fresno
Pediatric Neurology Fellowship
University of California, Irivine
Sleep Medicine Fellowship
University of California, Los Angeles, Cedars Sainai Medical Center Program, Veterans Administration - Greater Los Angeles
Pediatric Neurology Fellowship
Chief Resident - University of California, Irvine
Board Certifications
Honors and Awards
Award for Outstanding Resident Teacher
University of California, San Francisco
Award for Outstanding Resident Accomplishment
Department of Neurology, University of California, Irvine
Published Works
Ontogeny of Insomnia. A Galion and J Martin. Encyclopedia of Sleep. Accepted for publication April 2011.

Lateralized Infarcts In Cerebral Air Embolism. A Galion, A Do, and GY Chang. Journal of Clinical Neuroscience. 2010 Jul;17(7):943-4. Epub 2010 Apr 14.

Distribution of Serotonin Expression After Spinal Cord Injury in Lampreys. A. W. Mitra, B. Bent, C. Coleman, M. Hagan, A. Popper, N. Ude, A. H. Cohen Abstract in Society of Neuroscience Publication 2001 Poster at 2001 Society for Neuroscience Conference

Delay of intracellular calcium transients using a calcium chelator: application to high-throughput screening of the capsaicin receptor ion channel and G-protein-coupled receptors. Stephan K. Grant, Alka Bansal, Anjalee Mitra, Scott D. Feighner, Ge Dai, Gregory J. Kaczorowski, and Richard E. Middleton Anal Biochem. 2001 Jul 1;294(1):27-35.