CHOC Docs
Joanne P Starr, MD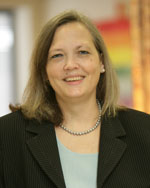 Office and Contact Information
1310 W Stewart Dr
#503
Orange, CA 92868
phone: (714) 997-2224
fax: (714) 997-1187


map & directions
---
Physician Bio
Dr. Starr was previously director of the cardiac surgery program at Children's Hospital of New Jersey and an associate professor at the New Jersey Medical School at the University of Medicine and Dentistry of New Jersey, in Newark. She is a member of numerous societies and a founding member of the World Society for Pediatric and Congenital Heart Surgery. She has served as lead and associate surgeon on several international congenital heart surgery missions, including to the Dominican Republic, Ecuador and Uganda.
Research
Dr. Starr's research interests in hybrid congenital heart surgery and myocardial protection complement the innovative and pioneering nature of the Heart Institute at CHOC – the only regional facility performing neonatal and pediatric open heart surgery. Dr. Starr has co-authored more than 50 abstracts and manuscripts that have been presented at national and international conferences. Several have focused on hybrid cardiac surgery, collaborative procedures involving interventional cardiologists and cardiac surgeons.
Dr. Starr has served as co-investigator on multi-center studies, including evaluating Esmolol for treating hypertension after surgical repair of coarctation of the aorta; REPEL-CV for reducing post-operative adhesions following pediatric cardiothoracic surgery; and Clopidogrel to lower arterial thrombotic risk in neonates and infants. Most recently, she was co-investigator for an American Heart Association grant, "Human Factors and Patient Safety During Infant Cardiac Surgery."
---
CHOC Articles & Publications
Congenital Cardiothoracic Surgeon Joins CHOC


Physician Connection: Summer 2011
An internationally respected congenital cardiothoracic surgeon with research interests in hybrid congenital heart surgery and myocardial protection has joined the CHOC Children's Heart Institute...
---
Stories

Dr. Starr


For congenital cardiothoracic surgeon, Joanne Starr, no two hearts are alike. ...
---