CHOC Docs
Delma Nieves, MD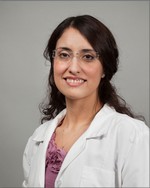 Office and Contact Information
1201 W La Veta
Orange, California 92868
phone: 7145098403


map & directions
---
Education
Medical School
University of Washington School of Medicine, Seattle, WA
Pediatrics Residency
Children's Hospital of Orange County, Orange, CA
Infectious Disease Fellowship
UCLA Ronald Reagan Medical Center, Los Angeles, CA
Board Certifications
Pediatrics
Pediatric Infectious Disease
Research
Dr. Nievas' clinical interests include infectious diseases of the newborn and the immuno-compromised, as well as a-typical presentations of disease. Currently, she is engaged in pertussis clinical research and a variety of drug trials to determine the correct antibiotic dosing and indication for pediatric patients.
Published Works
Cherry JD and Nieves, DJ, The Common Cold: Textbook of Pediatric Infectious Diseases, RD Feigin and JD Cherry (editors), 6th edition, W.B. Saunders Co, Philadelphia, PA, April 2009.

Nieves DJ, Cnop M, Retzlaff B, Walden CE, Brunzell JD, Knopp RH, Khan SE: The Atherogenic Lipoprotein Profile Associated With Obesity and Insulin Resistance Is Largely Attributable to Intra-Abdominal Fat. Diabetes. 2003 January; 52(1): pages 172-179.

Abstracts
Etiology and Outcome of Nosocomial Blood Stream Infections (N-BSI) in Very Low Birth Weight Neonates (VLBW-N) Delma J. Nieves, MD, Jasjit Singh, MD, David Lang, MD, Troy McGuire, MD, Vijay Dhar, MD, and Antonio Arrieta, MD, Childrens Hospital of Orange County, Orange, California, United States 92868. Poster presentation in 2005 Society for Pediatric Research/Pediatric Academic Society Annual Meeting Washington, DC, May, 2005

Development of a Guinea Pig Model of Leptospirosis To Assess an Experimental Vaccine Using Leptospira Outer Membrane Protein Loa22: Tissue Pathology and Quantitation of Infection Assessment of Hepatic and Renal Involvement. Delma J. Nieves1, M.D., David E. Bronstein, M.D.1, David Blanco, Ph.D.2, Michael C. Fishbein, M.D.3, and Michael A. Lovett, M.D., Ph.D2. 1Pediatrics-Infectious Diseases, David Geffen School of Medicine, UCLA; 2Medicine-Infectious Diseases and 3Pathology and Laboratory Medicine. Selected for Poster Presentation at the 2008 Pediatric Academic Societies' Annual Meeting in Honolulu, Hawaii, May 3-6, 2008.