CHOC Docs
Tallie Z Baram, MD, PhD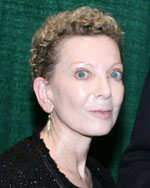 Office and Contact Information
UCI
B151, Med Sci I
Irvine, CA 92697
phone: 949-824-1131
fax: 949-824-1106


map & directions
---
Physician Bio
Tallie Z. Baram, M.D., Ph.D., is a CHOC Pediatric Subspecialty Faculty Neurologist, board certified in General Pediatrics and Psychiatry and Neurology, with special skill in Child Neurology.
Dr. Baram completed her pediatric residency training at Baylor Affiliated Hospitals, Houston TX. She served her fellowship at Baylor College of Medicine; Child Neurology Fellowship, Houston, TX. Her experience includes Associate Professor, Departments of Neurology and Pediatrics, University of Southern California, Los Angeles and attending physician, Children's Hospital Los Angeles. She has also held the positions of Assistant Professor and Attending Physician, Neurology, Neuro-Oncology and Pediatrics, University of Texas (& MD Anderson Cancer Center), Houston, TX.
Dr. Baram is currently a Professor of Pediatrics and Anatomy, Neurobiology and Neurology, UC Irvine and is the founder and executive committee chair of University of California Irvine's Epilepsy Research Center. She is considered the world's leading investigator of the basic neural mechanisms involved in childhood febrile seizures and how prolonged febrile seizures might lead to the onset of adult epilepsy.
NOTE: Dr. Baram is not accepting new patients at this time.
UCI researcher, Tallie Z. Baram, and French researchers find master switch for adult epilepsy
http://today.uci.edu/news/2011/06/nr_baram_110627.php
Research
Research Focus:
Working to understand: (1) How the brain becomes epileptic (2) how early-life stress, enriched-experience or seizures result in enduring changes of hippocampal structure and function (learning and memory) (3) Mechanisms of resilience to stress-related disorders.
Scientific Focus:
(a) Enduring neuroplasticity, via epigenetic programming and altered connectivity, of hippocampal and hypothalamic neurons that is induced by early life enriched-experience, stress or seizures. b) Febrile seizures and epilepsy: contributions of ion channel expression and trafficking, biomarkers of epileptogenesis, inflammation


---
Education
Medical School
University of Miami School of Medicine, FL
Pediatrics Residency
Baylor College of Medicine, Houston, TX
Child Neurology Fellowship
Baylor College of Medicine, Houston, TX
Board Certifications
Pediatrics
Child Neurology
Published Works
Selected/Recent Publications
McClelland S, Flynn C, Dubé C, Richichi C, Zha Q, Ghestem A, Esclapez M, Bernard C, Baram TZ.
Neuron-restrictive silencer factor-mediated hyperpolarization-activated cyclic nucleotide gated channelopathy in experimental temporal lobe epilepsy. Ann Neurol 2011.
McClelland S, Korosi A, Cope J, Ivy A, Baram TZ.
Emerging roles of epigenetic mechanisms in the enduring effects of early-life stress and experience on learning and memory. Neurobiol Learn Mem. 2011 Feb 19. [Epub ahead of print]
Vezzani A, French J, Bartfai T, Baram TZ. TThe role of inflammation in epilepsy. Nat Rev Neurol. 2010.
Ivy AS, Rex CS, Chen Y, Dubé C, Maras PM, Grigoriadis DE, Gall CM, Lynch G, Baram TZ.
Hippocampal dysfunction and cognitive impairments provoked by chronic early-life stress involve excessive activation of CRH receptors. J Neurosci. 2010 30:13005-15.
Chen Y, Rex CS, Rice CJ, Dubé CM, Gall CM, Lynch G, Baram TZ.
Correlated memory defects and hippocampal dendritic spine loss after acute stress involve corticotropin-releasing hormone signaling. PNAS. 2010 107:13123-8.
Dubé CM, Ravizza T, Hamamura M, Zha Q, Keebaugh A, Fok K, Andres AL, Nalcioglu O, Obenaus A, Vezzani A, Baram TZ.
Epileptogenesis provoked by prolonged experimental febrile seizures: mechanisms and biomarkers. J Neurosci. 2010 30:7484-94.
Noam Y, Zha Q, Phan L, Wu RL, Chetkovich DM, Wadman WJ, Baram TZ. Trafficking and surface expression of HCN channels in hippocampal neurons. J Biol Chem. 2010 285:14724-36.
Korosi A, Shanabrough M, McClelland S, Liu ZW, Borok E, Gao XB, Horvath TL, Baram TZ. Early-life experience reduces excitation to stress-responsive hypothalamic neurons and reprograms the expression of CRH. J Neurosci. 2010 30:703-13.
Joëls M, Baram TZ. The neuro-symphony of stress. Nat Rev Neurosci. 2009 Apr 2.
Dubé CM, Brewster AL, Richichi C, Zha Q, Baram TZ. Fever, febrile seizures and epilepsy. Trends Neurosci. 2007 30:490-6.
Santoro B, Baram TZ. The multiple personalities of h-channels. Trends Neurosci. 2003 26:550-4.