CHOC Docs
Patricia P Liao, MD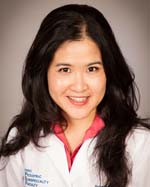 Office and Contact Information
1201 W La Veta
Orange, CA 92868
phone: (714) 509-8620
fax: (714) 509-4072


map & directions
---
Physician / Researcher Bio
Patricia Liao, M.D. is board certified in pediatrics and pediatric critical care. She completed her critical care fellowship training at Childrens Hospital Los Angeles. Dr. Liao completed her pediatric residency training at Children's Hospital of Orange County. She obtained her medical degree from Northwestern University in Chicago where she was awarded the Albert Schweitzer Fellowship. Dr. Liao's special interests include congenital heart disease, telemedicine, and community outreach. Dr. Liao is fluent in Spanish and conversational Mandarin and Hakka.
Education
Medical School
Northwestern University, Chicago, IL
Residency
CHOC Children's Hospital
Fellowship
Childrens Hospital Los Angeles
Research
Dr. Liao is very focused on her patients and the overall improvement of outcomes in critical care treatments. As part of this focus, she is interested in looking at genetic predispositions to critical illnesses. In support of her clinical and research interests, Dr. Liao is involved in several trials. Currently, Dr. Liao is principal investigator involved in a multicenter study investigating behavior and developmental outcomes in children who have had pertussis through the Collaborative Pediatric Critical Care Research Network and the Eunice Kennedy Shriver National Institute of Child Health and Human Development. Along with the rest of the critical care division, Dr. Liao is working as an investigator on three additional studies. The first is in conjunction with the Centers for Disease Control, in which Dr. Liao is investigating genetic epidemiology of life-threatening influenza infection in children. Another study is a multicenter, randomized, masked placebo-controlled trial to assess the safety and efficacy of lucinactant in acute hypoxemic respiratory failure in children up to two years of age. She is also involved in an investigator-initiated trial started at Cincinnati Children's Hospital Medical Center in which she is studying genomic analysis of pediatric systemic inflammatory response syndrome.
Dr. Liao's commitment to critical care research and international health are evident through her publications, abstracts, and invited lectures.
Published Works
Domico M, Liao P, Anas N, Mink R: Elevation of Brain Natriuretic Peptide Levels in Children with Septic Shock, Pediatric Critical Care Medicine 9(5): 478-483, September 2008.

Mortality of critical pertussis in the United States. Liao, P, Markovitz, B, Critical Care Medicine, Supplement, Vol 35 (12): A147, December 2007. (Moderated poster presentation at 37th Critical Care Congress, Honolulu, HI, February 2008)

Elevation of brain natriuetic peptide levels in children with septic shock. Domico, MB, Liao, P, Mink R, Anas, N. Society of Critical Care Medicine 35th Critical Care Congress, San Francisco, CA, USA January 7-11, 2006, 33(12) Abstract Supplement, A153, Dec 2005.