CHOC Docs
Felice C Adler-Shohet, M.D.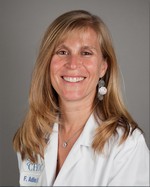 Office and Contact Information
CHOC Children's Specialists
1201 W La Veta
Orange, CA 92868
phone: (714) 509-8403
fax: (714) 509-4014


map & directions
Web Site:
http://www.choc.org/specialists
---
Physician / Researcher Bio
Felice Adler, M.D., FAAP, has been working at CHOC since 2008 and is currently the director of outpatient services for the division of infectious diseases. She is board certified in pediatrics and pediatric infectious diseases. She received her medical degree from Vanderbilt University School of Medicine in Nashville, Tennessee. She completed her internship and residency training at the Vanderbilt University Children's Hospital. Dr. Adler-Shohet completed her fellowship training in pediatric infectious diseases at Miller Children's Hospital, Long Beach and University of California, Irvine College of Medicine. Dr. Adler has special interest in tuberculosis and neonatal infections.
Research
Dr. Adler is very active in researching tuberculosis, bone and joint infections, and neonatal infections. She is currently evaluating possible causes of bone and joint infections in children. Dr. Adler is also well-researched in the area of neonatal infections and has several ongoing projects in this area.
Dr. Adler recently presented "Management of Latent Tuberculosis Infections in Child Contacts of Multi-Drug Resistant Turberculosis," as a poster at the 48th Annual Meeting of the Infectious Diseases Society of America.
---
Published Works
Green J, Singh J, Cheung M, Adler F, Ashouri N, Arrieta A. "A cluster of pediatric endemic typhus cases in Orange County, California: Case reports and literature review". Accepted for publication. Pediatric Infectious Disease Journal. August 2010.

Brosnan D, Adler-Shohet FC, Le-Bucklin KV. "Fever and cutaneous lesions in a 2-year-old toddler: More than skin deep?" Contemporary Pediatrics 2007; 24:24-9.

Wurthwein G, Groll AH, Hempel G, Adler-Shohet FC, Lieberman JM, Walsh TJ. "Population pharmacokinetics of amphotericin B lipid complex in neonates." Antimicrob Agents Chemother 2005 Dec;49(12):5092-8.

Adler-Shohet FC, Cheung M, Hill MA, Lieberman JM. "Aseptic meningitis in infants younger than 6 months of age hospitalized with urinary tract infections." Pediatr Infect Dis J 2003;22:1039-42.

Adler-Shohet FC, Lieberman JM. "Infections following trauma." In: Long SS, Pickering LK, Prober CG, eds. Principles and Practice of Pediatric Infectious Diseases, 2nd Ed. Churchill Livingstone 2002;513-6

Adler-Shohet FC, Waskin H, Lieberman JM. "Amphotericin B lipid complex for neonatal invasive candidiasis. "Arch Dis Child Fetal Neonatal Ed 2001;84:F131-3

Adler-Shohet F, Lieberman JM. "Bacterial pneumonia in children." Semin Pediatr Infect Dis 1998;9:191-8.

Adler-Shohet F, Palmer P, Reed G, Edwards KM. "Prevalence of Helicobacter pylori antibodies in normal children." Pediatr Infect Dis J 1996;15(2):172-73.