CHOC Docs
Cecilia Vaquero Solans, MD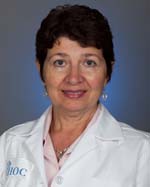 Office and Contact Information
CHOC Children's Specialists
1201 W La Veta
Orange, CA 92868
phone: (714) 509-4099
fax: (714) 509-4299


map & directions
Web Site:
http://www.choc.org/specialists
---
Administrative Appointments
Gastroenbterology, CHOC Children's Specialists
Physician Bio
Dr. Vaquero Solans is board certified in pediatrics and pediatric gastroenterology. A graduate of Universidad de Buenos Aires School of Medicine, she completed pediatric residency training in Buenos Aires, Argentina, Dr. Vaquero Solans trained in pediatric nutrition at North Shore University Hospital, Cornell University Medical College in Manhasset, New York,and completed fellowship in pediatric gastroenterology at Montefiore Medical Center, Albert Einstein College of Medicine, Bronx New York. Her interests span the whole spectrum of pediatric digestive diseases, with special emphasis in nutrition, growth and obesity. Dr. Vaquero Solans speaks fluent Spanish and is available to see patients at CHOC Children's Hospital of Orange County (CHOC).
Education
Medical School
Universidad de Buenos Aires, Facultad de Medicina
Buenos Aires, Argentina
Senior Resident in Pediatrics
CHOC Children's Hospital, Orange, CA
Resident in Pediatrics
Jacobi Medical Center, Albert Einstein College of Medicine, Bronx, New York
Residency in Clinical Pediatrics
Hospital General de Niños, Buenos Aires, Argentina
Fellow, Pediatric Gastroenterology and Nutrition
Montefiore Medical Center, Albert Einstein College of Medicine, Bronx, NY
Fellow in Pediatric Nutrition
North Shore University Hospital, Cornell University Medical College, Manhasset, New York
Research Fellow, Pediatric Nutrition and Metabolism
Children's Hospital, University of Colorado, Denver, Colorado
Board Certifications
Pediatrics
American Board of Pediatrics
Pediatric Gastroenterology
American Board of Pediatrics