CHOC Docs
Raymond Y Wang, MD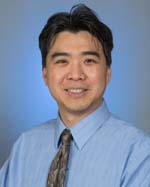 Office and Contact Information
CHOC Children's Specialists
1201 W La Veta
Orange, CA 92868
phone: (714) 509-8852
fax: (714) 509-8362


map & directions
Web Site:
http://www.choc.org/specialists
---
Physician / Researcher Bio
Raymond Wang, M.D. is the director of multidisciplinary lysosomal storage disorder program at CHOC Children's and a board certified clinical geneticist and biochemical genetics specialist. Dr. Wang attended Stanford University where he was a member of the Phi Beta Kappa honors society and graduated with a bachelor's degree with Honors and Distinction in Biological Sciences. He earned his medical degree from the University of California, Los Angeles (UCLA) where he was a member of the Alpha Omega Alpha honors society. He completed his internship and residency in medical genetics and pediatrics at Cedars-Sinai Medical Center where he also attended the center's medical genetics training program. He served his fellowship in biochemical genetics at the UCLA Intercampus. In 2006, Dr. Wang received the American College of Medical Genetics and Genzyme Fellowship in Biochemical Genetics Award. In the same year, he also received the Cedars-Sinai Medical Center's Paul Rubenstein Prize for Excellence in Resident Research.
Education
Medical School
UCLA School of Medicine, Los Angeles, CA
Medical Genetics/Pediatrics Residency
Cedars-Sinai Medical Center, Los Angeles, CA
Biochemical Genetics Fellowship
Cedars-Sinai Medical Center, Los Angeles, CA
Board Certifications
Genetics
Clinical and Biochemical Genetics
Research
Dr. Wang's research concentrates upon a category of inherited conditions called lysosomal storage disorders, which result in severe, progressive multisystemic symptoms from ongoing accumulation of undegraded substrates within the lysosomal compartment of the cell. Previously untreatable and leading to early death, treatments to reduce the substrate storage such as hematopoietic stem cell transplantation and / or intravenous enzyme replacement therapy have beneficially changed the natural history of some lysosomal storage disorders.
As long-term survivors with storage disorders are becoming adolescents and young adults, progressive symptoms in other tissues resistant to these treatments have been recognized. Dr. Wang's research focuses upon the development of treatment for these refractory organ systems, and upon the refinement of novel, non-invasive biomarkers to follow treatment progress and predict future outcomes. He has recently submitted a Mentored Clinical Scientist Development Award application to the National Institutes of Health to study the Natural History and Mechanisms of Cardiovascular Disease in Mucopolysaccharidosis Type I, and is studying the utility of carotid intima-media thickness as a predictor of cardiovascular dysfunction and disease in patients with mucopolysaccharidosis type III (supported by CHOC Children's) and type IV (supported by the MPS Society ~ http://www.mpssociety.org/2013-research-grants/ ). He is also studying the safety and efficacy of intra-articular alpha-iduronidase injections for joint disease in mucopolysaccharidosis type I.
Published Works
Published Works
Wang RY, Monuki ES, Powers S, Schwartz PH, Watkins PA, Shi Y, Moser A, Shrier DA, Waterham HR, Nugent DJ, Abdenur JE. Effects of hematopoietic stem cell transplantation on acyl-CoA oxidase deficiency: a sibling comparison study. J Inherit Metab Dis. 2013 Oct. accepted, in revision

Wang RY, Braunlin EA, Rudser KD, Dengel DR, Metzig AM, Covault KK, Polgreen LE, Shapiro E, Steinberger J, Kelly AS. Carotid Intima-Media Thickness Is Increased In Patients With Treated Mucopolysaccharidoses Types I and II, And Correlates With Arterial Stiffness. Mol Genet Metab 2013; doi: 10.1016/j.ymgme.2013.11.001

Lieu MT, Ng BG, Rush JS, Wood T, Basehore MJ, Hegde M, Chang RC, Abdenur JE, Freeze HH, Wang RY. Severe, Fatal Multisystem Manifestations In A Patient With Dolichol-Kinase-Congenital Disorder of Glycosylation Mol Genet Metab. 2013; doi: 10.1016/j.ymgme.2013.09.016. NIHMS530704

Banugaria SG, Prater SN, Patel TT, Dearmey SM, Milleson C, Sheets KB, Bali DS, Rehder CW, Raiman JA, Wang RY, Labarthe F, Charrow J, Harmatz P, Charakborty P, Rosenberg AS, Kishnani PS. Algorithm for the early diagnosis and treatment of cross-reactive immunologic material (CRIM)-negative patients with infantile pompe disease Treated with ERT: A Step Towards Newborn Screening. Accepted for Publication, PLOS1. 5/29/2013

Vite CH, Nestrasil I, Mlikotic A, Jens JK, Snella EM, Gross W, Shapiro EG, Kovac V, Provenzale JM, Chen S, Le SQ, Kan SH, Banakar S, Wang RY, Haskins ME, Ellinwood NM, Dickson PI. Features of brain MRI in dogs with treated and untreated mucopolysaccharidosis type I. Comp Med. 2013; 63: 163-73.

Miyake N, Yano S, Sakai C, Hatakeyama H, Matsushima Y, Shiina M, Watanabe Y, Bartley J, Abdenur JE, Wang RY, Chang R, Tsurusaki Y, Doi H, Nakashima M, Saitsu H, Ogata K, Goto Y, Matsumoto N. Mitochondrial Complex III Deficiency Caused by a Homozygous UQCRC2 Mutation Presenting with Neonatal-Onset Recurrent Metabolic Decompensation. Hum Mut. 2013; 34: 446 - 452.

Wang RY, Chang RC, Sowa ME, Chang AC, Abdenur JE. Prevention of metabolic decompensation in an infant with mutase deficient methylmalonic aciduria undergoing cardiopulmonary bypass for the Starnes procedure. Accepted for publication: World J Pediatr 2012

Prater SN, Banugaria SG, Dearmey SM, Botha EG, Stege EM, Case LE, Jones HM, Phornphutkul C, Wang RY, Young SP, Kishnani PS. The emerging phenotype of long-term survivors with infantile Pompe disease. Genet Med. 2012 Apr 26 doi:10.1038/gim.2012.44

Gallant NM, Leydiker K, Tang H, Feuchtbaum L, Lorey F, Puckett R, Deignan J, Neidich J, Dorrani N, Chang E, Barshop BA, Cederbaum SD, Abdenur JE, Wang RY. Biochemical, molecular, and clinical characteristics of children with short chain acyl-CoA dehydrogenase deficiency detected by newborn screening in California. Mol Genet Metab 2012;106:55-61.

Williams TB, Daniels M, Puthenveetil G, Chang RC, Wang RY, Abdenur JE. Neonatal diabetes and adrenal insufficiency as early manifestations of Pearson Syndrome. Mol Genet Metab 2012;106:104-107.

Puckett RL, Orsini JJ, Pastores GM, Wang RY, Chang R, Saavedra-Matiz CA, Torres PA, Zeng B, Caggana M, Lorey F, Abdenur JE. Krabbe disease: clinical, biochemical, and molecular information on six new patients and successful retrospective diagnosis using stored newborn screening cards. Mol Genet Metab 2012:105:126-131.

Wang RY, Covault KK, Halcrow EM, Gardner AJ, Cao X, Newbomb RL, Dauben RD, Chang AC. Carotid intima-media thickness is increased in patients with mucopolysaccharidoses. Mol Genet Metab 2011:104;592-596.

Wang RY, Bodamer OA, Watson MS, Wilcox WR; on behalf of the ACMG Work Group on Diagnostic Confirmation of Lysosomal Storage Diseases. Lysosomal storage diseases: Diagnostic confirmation and management of presymptomatic individuals. Genet Med. 2011; 13: 457-484.

Reinstein E, Wang RY, Zhan L, Rimoin DL, Wilcox WR. Ehlers & Danlos type VIII, periodontitis-type: Further delineation of the syndrome in a four-generation pedigree. Am J Med Genet Part A 2011; 155: 742-747.

Sass JO, Fischer K, Wang RY, Christensen E, Scholl-Borgi S, Chang R, Kapelari K, Walter M. D-glyceric aciduria is caused by genetic deficiency of D-glycerate kinase (GLYCTK). Hum Mutat. 2010; 31: 1280-1285.

Puckett R, Lorey F, Rinaldo P, Lipson M, Matern D, Sowa M, Levine F, Chang R, Wang RY, Abdenur JE. Maple syrup urine disease: further evidence that variant forms cannot be detected by newborn screening. Mol Genet Metab. 2010; 100: 136-142.

Wang RY, Cambray-Forker EJ, Ohanian K, Karlin DS, Covault KK, Schwartz PH, Abdenur JE. Treatment reduces or stabilizes brain imaging abnormalities in patients with MPS I and II. Mol Genet Metab. 2009; 98: 406-411.

Wang RY, Abe JT, Cohen AH, Wilcox WR. Enzyme replacement therapy stabilizes obstructive pulmonary Fabry disease associated with respiratory globotriaosylceramide storage. Journal of Inherited Metabolic Disease, Epub, 10/21/2008

Wang RY, Lelis A, Mirocha J, Wilcox WR. Fabry disease female heterozygotes are not just carriers, but have a significant burden of disease and impaired quality of life. Genet Med, 2007; 9: 34-45.

Wang RY, Jones JR, Chen S, Rogers RC, Friez MJ, Schwartz CE, Graham JM Jr. A Previously Unreported Mutation in a Currarino Syndrome Kindred. Am J Medical Genet Part A 2006; 140: 1923-1930.

Wang RY, Visootsak J, Danielpour M, Graham JM Jr. Midline defects in FG syndrome: does tethered spinal cord contribute to the phenotype? J Pediatr 2005; 146: 537-541.

Wang RY, Martinez-Frias ML, Graham JM Jr. Infants of Diabetic Mothers are at Increased Risk for the Oculo-auriculo-vertebral Sequence: A Case-Based and Case-Control Approach. J Pediatr 2002; 141: 611-617.

Wang RY, Earl D, Ruder RO, Graham JM Jr. Syndromic Ear Anomalies and Renal Ultrasounds. Pediatrics 2001; 108: E32.

Chu YW , Wang RY, Schmid I, Sakamoto KM. Analysis with Flow Cytometry of Green Fluorescent Protein Expression in Leukemic Cells. Cytometry 1999; 36(4): 333-9.

Book Chapters
Wang RY, Wilcox WR. Disorders of Amino Acid Metabolism. Emery & Rimoin's Principles and Practice of Medical Genetics, 6th ed. Rimoin DL, Connor JM, Pyetriz RE, Korf BR, eds. 2012.

Sun AS, Wang RY, Puliyanda D. Cystic Renal Disease. Emery & Rimoin's Principles and Practice of Medical Genetics, 6th ed. Rimoin DL, Connor JM, Pyetriz RE, Korf BR, eds. 2012.

Wang RY, Kangarloo H, Jordan SH. Cystic Renal Disease. Emery & Rimoin's Principles and Practice of Medical Genetics, 5th ed. Rimoin DL, Connor JM, Pyetriz RE, Korf BR, eds. 2007.

Selected Presentations
Wang RY, Vera M, Khalid O, Ellinwood NM, Schwartz P, Dickson PI. Aortic gene expression from the canine model of MPS I identifies upregulation of genes related to antigen presentation and inflammatory cytokines, and downregulation of cellular adhesion and cytoskeletal genes. 2013 International Congress of Inborn Errors of Metabolism, Barcelona, Spain: 9/3/2013 - 9/6/2013. [platform]

Wang RY, Braunlin EA, Rudser KD, Dengel DR, Metzig AM, Covault KK, Polgreen LE, Shapiro E, Steinberger J, Kelly AS. Carotid Intima-Media Thickness Is Increased In Patients With Mucopolysaccharidoses Types I, II, And VI And Is Correlated With Arterial Stiffness. 2013 Lysosomal Disease Network Meeting, Orlando, FL: 2/13/13-2/15/13. [platform]

Wang RY, Aminian A, McEntee M, Kan H, Le S, Guerra C, Dickson P. Intra-articular rhIDU administration in the canine model of MPS I is safe, well-tolerated, and reduces both joint tissue GAG storage and macrophage infiltration. 2012 Society of Inherited Metabolic Disease Meeting, Charlotte, NC: 3/31/12-4/3/12. [poster]

Wang RY, Aminian A, McEntee M, Kan H, Le S, Guerra C, Dickson P. Intra-articular rhIDU administration in the canine model of MPS I is safe, well-tolerated, and reduces both joint tissue GAG storage and macrophage infiltration. 2012 Lysosomal Disease Network Meeting, San Diego, CA: 2/13/12-2/15/12. [poster]

Wang R, Covault KK, Dauben R, Chang AC. Carotid Intima-Media Thickness is Significantly Increased in Patients with Mucopolysaccharidoses. 2010 SSIEM Meeting, Istanbul, Turkey: 8/29/10 - 9/3/10. [poster]

Wang R, Lelis A, Mirocha J, Wilcox WR. Fabry disease female heterozygotes are not just carriers, but have a significant burden of disease and impaired quality of life. 2006 International Congress for Inborn Errors of Metabolism, Chiba, Japan: 9/12/06 - 9/15/06. [platform]