CHOC Docs
Grace Mucci, Ph.D.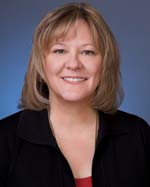 Office and Contact Information
CHOC Psychology Department
1201 W La Veta
Orange, CA 92868
phone: (714) 509-8481
fax: (714) 509-8756


map & directions
---
Physician Bio
Grace Mucci, Ph.D., is a board-certified pediatric neuropsychologist and coordinator of the Neuropsychology Program at CHOC Children's. She also serves as the clinical liaison to the CHOC Neuroscience Institute and Neuro-Oncology Program. Her areas of expertise include epilepsy, oncology and metabolic disorders. She is involved in supervising neuropsychology practicum students, pre-doctoral interns and post-doctoral fellows, as well as several research projects involving the neurocognitive effects of epilepsy and the long-term neurocognitive effects of cancer.
Dr. Mucci completed her doctoral degree in clinical psychology from Alliant University after receiving her bachelor's degree in liberal studies from California State University, Long Beach, and a master's degree in counseling from California State University, Fullerton. She also completed a post-doctoral Master of Science degree in psychopharmacology from Alliant University. She completed an APA-accredited internship and post-doctoral fellowship at CHOC Children's and additional post-doctoral training at the Neurobehavioral Clinic and Counseling Center in Lake Forest.
Dr. Mucci is listed in the National Register of Health Service Providers in psychology and is a member of the American Psychological Association and the National Academy of Neuropsychology. She is also a fellow of the American Academy of Pediatric Neuropsychology.
Education
Psychology School
California School of Professional Psychology, Alameda, CA
Postdoctoral Fellow
CHOC Children's Hospital, Orange, CA
Board Certifications
Video
Concussion Management: Grace Mucci, PhD, CHOC Children's


In this segment of American Health Journal, Grace Mucci, PhD at CHOC Children's, tells us about concussions in children and what symptoms to look for. ...
---
CHOC Articles & Publications
Ask the Expert:


Kid's Health (Archive): Spring 2010
My teen is always texting or on social networking sites like facebook. Should I be worried?...
---