CHOC Docs
Ying Peng, MD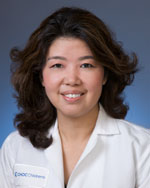 Office and Contact Information
26451 Crown Valley Parkway
Suite 100
Mission Viejo, CA 92626
phone: (949) 215-6662
fax: (949) 215-6663


map & directions
---
Administrative Appointments
Director, CHOC Neuromuscular/EMG Program
Director, CHOC Clinical Neurophysiology Lab
Clinic Medical Director, CHOC Neurology Services
Neurology, CHOC Children's Specialists
Physician Bio
As an expert in child neurology, Dr. Peng provides care for the full range of pediatric neurological conditions, with special interest in neuromuscular disease and electromyography/nerve conduction studies (EMG/NCV). Dr. Peng serves as the clinical medical director of CHOC Children's neurology services, the director of the CHOC Children's neuromuscular/EMG program and the director of CHOC Children's Clinical Neurophysiology Lab.
Dedicated to clinical excellence, Dr. Ying Peng is board certified in child neurology and clinical neurophysiology by the American Board of Psychiatry and Neurology. Prior to joining CHOC Children's, Dr. Peng attended medical school at the Shanghai Medical University in China/University of Kansas co-education program. She completed her internship in pediatrics and her residency in neurology at UC Irvine. She served a fellowship in clinical neurophysiology at UC Irvine and a fellowship in neuroscience/molecular bio research at Northwestern University, Chicago, Illinois.
Dr. Peng speaks fluent Mandarin.
Education
Medical School
Shanghai Medical University, China
Pediatrics Residency
UCI Medical Center, Orange, CA
Child Neurology Residency
UCI Medical Center, Orange, CA
Clinical Neurophysiology Fellowship
UCI Medical Center, Orange, CA
Board Certifications
Child Neurology
Clinical Neurophysiology
CHOC Articles & Publications
Weekly Neuro Clinic at Newport Beach Specialty Center


Physician Connection: Summer 2012
Consultation for low-acuity neurological conditions is now available on Wednesdays at the CHOC Children's Specialty Center at Hoag Health Center–Newport Beach....
---