CHOC Docs
Ying Peng, MD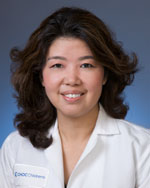 Office and Contact Information
1120 W La Veta
Suite 140
Orange, CA 92868-3874
phone: (714) 509-7601
fax: (714) 509-7650


map & directions
Web Site:
http://www.choc.org/specialists
---
Physician Bio
Dr. Peng provides care for the full range of neurological conditions, with special interest in pediatric neuromuscular disease and Electromyography/Nerve Conduction Studies (EMG/NCV) in children. She is certified by the American Board of Pediatric Neurology and the Clinical Neurophysiology Subspecialty Board. Dr. Peng completed medical school at the Shanghai Medical University in China/University of Kansas Co-education Program. She did her internship in pediatrics and her residency in neurology at UCI. Her fellowships are in clinical neurophysiology at UCI and in neuroscience/molecular biology research at Northwestern University.
Dr. Peng also speaks Chinese.
Her philosophy of care is that "options are always available if we are trying."
---
CHOC Articles & Publications
Weekly Neuro Clinic at Newport Beach Specialty Center


Physician Connection: Summer 2012
Consultation for low-acuity neurological conditions is now available on Wednesdays at the CHOC Children's Specialty Center at Hoag Health Center–Newport Beach....
---