CHOC Children's Feeding Program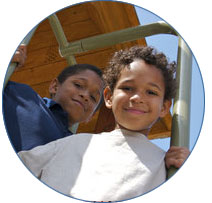 The Pediatric Feeding Program at CHOC was established to evaluate and treat children with significant feeding problems. Children who participate in the program typically have failed outpatient feeding therapy and have either a G-Tube (feeding tube) or are at risk for G-Tube placement.
Children seen in the feeding program have a range of medical/developmental problems including cerebral palsy, developmental disorders, seizure disorders, genetic disorders, oral motor dysfunction, short-bowel syndrome, food allergies, history of prematurity and behavioral disorders. The multidisciplinary program includes specialists from gastroenterology, speech therapy, occupational therapy, psychology, social services, and nutrition.
The feeding program can include one or all of the following components: an initial screening, outpatient feeding evaluation, psychology/behavioral consultation and an intensive inpatient feeding program. After each stage, recommendations are made to best meet the patient/family's goals for better feeding skills.
Letters from grateful parents:
You are all so incredibly good at what you do; each and every one of you exceeds your job descriptions beyond belief. Your support, compassion, and vested interest in my family is what makes all of our accomplishments possible. Words cannot adequately convey my many thanks.


Click here for complete letter
If you wish to contact the Feeding Program group please email us at feedingprogram@choc.org
CHOC Feeding Program - Pacer's Story


CHOC patient Pacer was only able to eat 5% of his nutrition by mouth and had been fed by a feeding tube for most of his life. A group of dedicated professionals led by Dr. Mitchell Katz, Medical Director of the CHOC Gastroenterology & Nutrition Program all worked together so one little boy could learn to eat. For the first time in 3 years, Pacer now receives all of his nutrition by mouth.


---