The New Bill Holmes Tower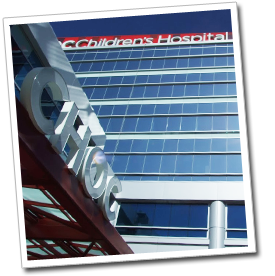 The completion of this new state-of-the-art tower, combined with world-class talent and research capabilities, ushers in a new era at CHOC--one that will result in innovation and discovery, ultimately improving care for all children.
Seven stories tall and tripling the size of our existing patient care facility in Orange, this tower is the physical manifestation of our vision to become a nationally recognized premier children's hospital.
Within this innovative and healing space – specially designed to accommodate the unique needs of children and their families – our team will employ the most advanced technology along with standardized, integrated processes to improve care and safety for children.

New Tower Services-At-A-Glance Guide
New Services in the Bill Holmes Tower:
Enhanced Family Amenities
Click here for a closer look at the enhanced family amenities offered on the 2nd floor of the Bill Holmes tower.
---
Photos

Video
New Tower Technology - Dr. Feaster and Mark Headland


Dr. William Feaster and Mark Headland speak to us about the up-to-date technology in the Holmes Tower at CHOC Children's.
KTLA Tech Report - CHOC: Inside the High Tech Hospital


In this segment from the KTLA Tech Report which first aired on May 1, 2013, KTLA reporter Rich DeMuro talks about the newly connected Bill Holmes Tower at CHOC Children's and what that technology means to patients and their families.
Critical to the Community


Learn about the new patient care tower at CHOC Children's and how it is an integral part of pediatric healthcare in Southern California.
Tower Construction Time Lapse


CHOC Children's is taking bold action for transformative change - growing from a crucial regional pediatric care center to one of the nation's leading children's hospitals. The new tower is coming Spring 2013.
CHOC Bill Holmes Tower Preview


Watch today's 'OC METRO Minute': CHOC VP Jan Lansing gives the OC METRO Minute an exclusive tour as first phase openings begin at the new South Tower.
More Media...
---
News and Announcements

Pressroom
|

Press Release Archive
Articles From the Blog
Visit our Blog for the most recent articles from the experts at CHOC Children's