CHOC Campus Expansion
CHOC Children's Is Building One Of The Most Advanced Children's Hospitals In The World!
Committed to making Orange County one of the healthiest places for children in the nation, CHOC is building a new state-of-the-art patient care tower (The Bill Homes Tower) set to open on our main campus in April 2013.
When completed, the new CHOC Children's Hospital will continue to provide and expand innovative tertiary and quaternary pediatric care. The seven-story tower will add 425,524 square feet of space and include a new and advanced pediatric emergency department, operating rooms and related services, laboratory, pathology, imaging and radiology services.To promote a serene, healing environment for children and their families, the tower will also feature leading design and safety principles, private rooms and enhanced family amenities.
The building process for a project this size is complex and lengthy, but we are working diligently to limit inconveniences caused by the construction, and remain dedicated to the highest standards of patient care and safety.
We are also committed to keeping you informed of our upcoming construction activities: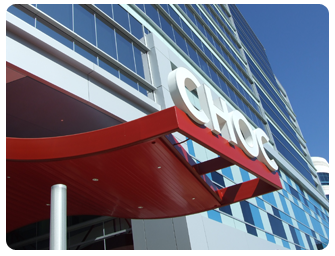 CHOC Children's Hospital's Front Door Is Open!
CHOC families and visitors may now check in at the new Holmes Tower entrance
located on Pepper Street (near the intersection of Pepper and La Veta).
Follow the "red carpet" to the parking structure and follow the signs
to reach our new front entrance.
Parking / Valet
New Patient and Visitor Parking Entrance - The new entrance to the five-story visitor parking structure is open on Pepper Street. Please Note: Oversized vehicles must use the new entrance. Please see map above.
Valet service is available for $4. The valet booth is located in front of the new main hospital entrance.
PLEASE NOTE:
Due to the construction, traffic patterns may change. For your safety, please pay close attention to signs and flagmen to help direct you. In addition, you may experience some noise or vibration during your stay with us. Should you have any questions or concerns, please call our Customer Service CARE Line at 714-509-3200.
---
To Learn More
For construction updates, or to leave a construction-related question, please call the Expansion Hotline at 714-509-8710.
For more information about CHOC's "Change CHOC, Change the World" campaign, please visit http://www.choc.org/giving/.