Concussion Program :: CHOC Concussion Program
It Takes a Team to Treat Pediatric Concussion
At CHOC Children's, we offer clinical expertise in identifying and treating sports injuries in children and teens. Newer guidelines show that kids and adolescents should be managed much more conservatively than adults when it comes to concussion, so a children's hospital is where young athletes are best treated.
The CHOC Children's Concussion Program offers pediatric concussion experts who work quickly and efficiently to provide an immediate response, while offering a comprehensive approach to care.

Download our Concussion: Road to Recovery Guide
For concussion consultations - even on nights and weekends - call our dedicated
Sports Medicine Program line at (714) 509-4054.
---
What is a concussion? A concussion is a mild traumatic brain injury (TBI) caused by a blow to the head. Signs and symptoms of a concussion can range from mild to severe and can include: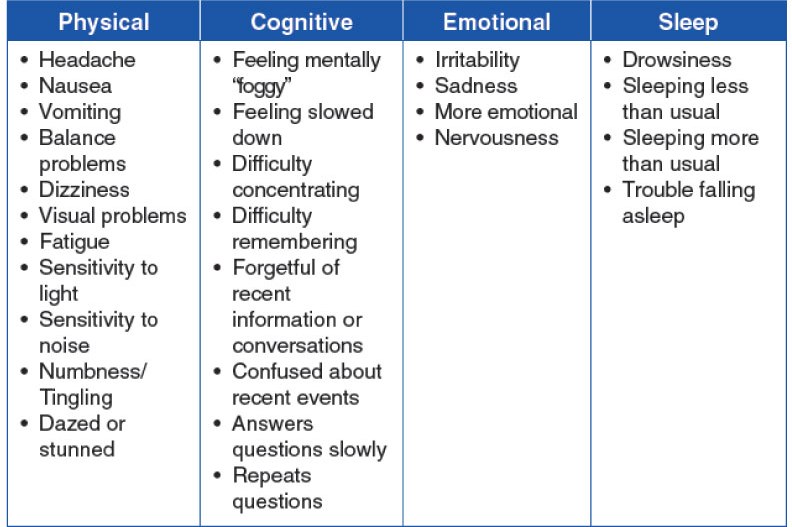 When to Call the Doctor
If the athlete suffers an impact to the head and displays any of these emergency signs or symptoms of a concussion, seek immediate medical care:
•Changes in alertness and consciousness
•Convulsions (seizures)
•Muscle weakness on one or both sides
•Persistent confusion
•Remaining unconsciousness (coma)
•Repeated vomiting
•Unequal pupils
•Unusual eye movements
•Walking problems

Surgical Treatment of TBI
Moderate to severe TBI, or any brain injury that involves bleeding or brain damage, must be treated in a hospital and requires evaluation by a
neurosurgeon.
The most significant complications associated with a concussion are brain swelling and increased intracranial pressure (ICP). If left untreated, this pressure can cause brain damage by preventing blood and oxygen circulation throughout the brain.

---
Concussions are a Big Deal
Sports-related concussions in kids and teens are a growing concern among medical and educational professionals, as well as parents. California legislation (AB25) focuses specifically on risks of re-injury and medical clearance to return to play.
Newer recommendations are that children and teens should be treated much more conservatively than adults when it comes to concussion. The developing brain is very different from the adult brain in that it is much more likely to manifest symptoms later and have longer term problems when injured, especially if the child is not allowed to rest and recover. Because each concussion and each child is different, care for each child and each concussion must be individualized.
Our Comprehensive Approach to Sports-related Concussion
The CHOC Children's Concussion Program provides specialized services for student athletes with concussions from pediatric concussion experts. We address the multiple needs associated with brain injury while mitigating potential long-term effects. This unique, comprehensive program brings together specialists from a variety of disciplines and helps children and families through every step of the recovery process – from the management of neurological symptoms to addressing school and psychosocial issues.
ImPACT Testing
The concussion management team takes an individualized and evidence-based approach when evaluating sports-related concussions. For athletes who don't have a history of concussion, our specialists use a computer-based tool to establish a baseline of cognitive function, and then monitor the patient's cognitive recovery if he or she sustains a concussion — including measuring attention span, memory, processing speed and reaction time.
For concussions (including complicated, second impact, multiple concussions, and postconcussion syndrome) our pediatric neuropsychologists offer comprehensive evaluations to determine the extent of brain impairment in young athletes. Based on the findings, our experts will recommend a course of treatment.
If you or your child are experiencing a life-threatening emergency, call 9-1-1 or go to the nearest hospital.