Children's Miracle Network :: Meet a Miracle Child
Keturah - Bilateral Chord Paralyisis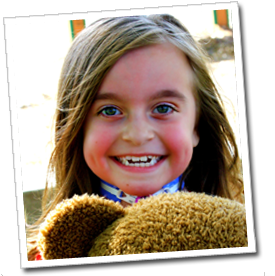 Immediately after birth, Keturah was diagnosed with Bilateral Vocal Cord Paralysis, making it difficult for her to breathe and eat on her own. She spent over half of her first two years of life in the hospital, having countless surgeries and struggling to survive. As an infant she received a g-tube in her stomach to eat and a tracheostomy in her neck to breathe.

Within her first year of life, she was found to have an intestinal malrotation causing difficulties with her tube feedings which eventually needed to be surgically repaired. Keturah was also diagnosed with Arnold Chiari Malformation of the brainstem and Central Hypoventilation Syndrome which causes her to stop breathing when she goes to sleep. She has had two brain decompression surgeries and uses a ventilator every time she is sleeping. She also has a neurogenic bladder and needs to be catheterized four times a day to completely empty her bladder.

When Keturah was two years old, she went into CHOC's Intensive Inpatient Feeding Program where she spent three weeks in the hospital learning to eat by mouth and has continued to follow up with weekly outpatient feeding therapy sessions. Three years after entering the program, Keturah was eating well enough on her own to have her g-tube removed. When Keturah was three years old, she began coughing up copious amounts of blood. With the support of the Hematology and the Pulmonary Teams, they discovered that Keturah had a platelet aggregation defect. They have worked together to find the right medications to keep her bleeding under control every time she has an episode.

Keturah continues to visit CHOC on a weekly basis. Keturah loves all of her Doctors, Nurses, Therapists, and Child Life Specialists and thinks of all of them as family. Though she continues to have health challenges, she is happy and vibrant!
CMNH STORIES

Garrett
Shortly after Garrett was born, his parents received the news that he had a quadruple heart defect.

---

Katie
Katie's journey to beat leukemia began at CHOC Children's, and ended in success.

---

Linley
When Linley's parents found out their baby would need surgery, they knew where to go: CHOC Children's.

---

Kenta
It all started on a beautiful spring day when Kenta discovered the perfect pirate accessory – a stick.

---

Keturah
CHOC Children's family helps Keturah face her health challenges.

---

More Stories