CMNH Hospitals
CELEBRATING SEVEN YEARS AS THE CHILDREN'S MIRACLE NETWORK HOSPITAL IN ORANGE COUNTY.
CHOC Children's is excited to be a part of Children's Miracle Network since 2007! Children's Miracle Network Hospitals is a non-profit organization that raises funds for more than 170 children's hospitals. Countless individuals, organizations and media partners unite with Children's Miracle Network Hospitals to help sick and injured kids in their local communities.
Donations to Children's Miracle Network Hospitals create real miracles by funding equipment, medical care, research and education that save and improve the lives of 17 million children each year. In Orange County, 100% of donations raised through Children's Miracle Network support CHOC Children's.
Your participation in the following programs will help raise money for the children of CHOC.
MIRACLE JEANS DAY

Miracle Jeans Day allows groups and individuals alike to trade their work attire for jeans and help raise funds for kids at their local Children's Miracle Network Hospital. Participate nationally on September 18, or pick your own day. To find out more or participate please visit
www.miraclejeansday.org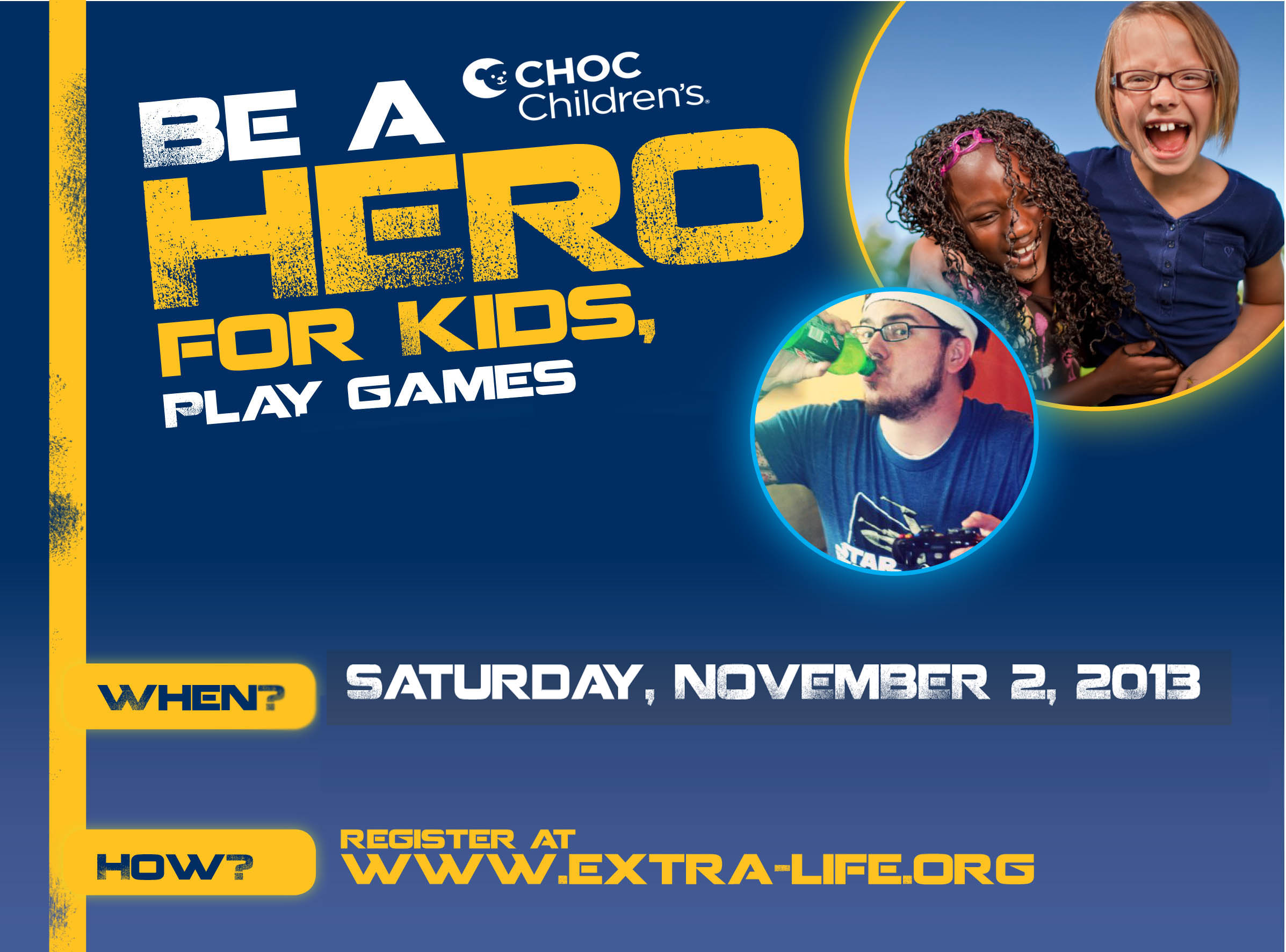 EXTRA LIFE -
November 2, 2013


Extra Life is an annual game marathon event that raises money for Children's Miracle Network Hospitals. Gamers play anything from board games, video games, bingo, and so much more for the patients at CHOC. They gather sponsorships from friends and family members and participate individually or part of a team to raise money for CHOC Children's!
Sign up is easy:

1. Visit:
http://extra-life.org
2. Select CHOC Children's
3. Ask friends and family to sponsor you for $1 per hour
4. Play games for 24 hours on
November 2, 2013
New Car Donation Program benefiting CHOC Children's
Children's Miracle Network Hospitals is proud to announce its newest national fundraising partner—Car Program. Car Program promotes, accepts and processes car donations nationwide and is one of the nation's largest car donation corporations, with 20 years experience helping people make car donations to charities. Car Program has processed more than 1 million cars to-date and has raised hundreds of millions of dollars for partner charities.
Miracle Cars, the new fundraising program, is a nationwide effort that will benefit all U.S. hospital partners. Miracle Cars will accept most vehicles including cars, trucks, boats, recreational vehicles, jet-skies, snowmobiles and some motorcycles. Non-running vehicles are accepted and registration is not required. Miracle Cars will provide next-day pickup, and, in most cases, same-day pick up is also available. Donors will be provided tax receipts at the time of pick-up and all towing is free.
To get the wheels rolling, please call 888-999-6504 or visit cmnhospitals.org/help
http://childrensmiraclenetworkhospitals.org/help
EXTRA LIFE - Play Games, Help Heal Kids - November 2, 2013
Walmart


Thank you to our Orange County Walmart/Sam's Clubs for raising over $220,000 for the kids at CHOC! Please visit your local Walmart/Sam's Club… And let them know we say thank you for helping CHOC Children's!


---

Delta


Thank you Delta Air Lines for being the Children's Miracle Network Hospitals launch partner of the 100 Million Miracles campaign.

Beginning June 1, Delta airlines will highlight the Children's Miracle Network program to more than 30,000 SkyMiles members. As part of their campaign initiatives, Delta Airlines will give 1,000 SkyMiles to everyone that donates $50 or more, and will offer a weekly sweepstakes. Additionally, 10 percent of the cost of all new Delta SkyClub memberships purchased during June will be donated to Children's Miracle Network Hospitals All fundraising dollars will be donated to Children's Miracle Network Hospitals through the100 Million Miracles program. Also, Join Delta Sky Club® in June and Delta will give 10% of the cost to CMN Hospitals and a free month to you. Use promo code CMNET. Terms & Conditions apply. Visit Delta.com/skyclub

To learn more about the 100 Million Miracles program please visit: www.100millionmiracles.com


---

IHOP National Pancake Day 2011!


Thank you for eating pancakes on March 1st and supporting IHOP to raise funds for CHOC!


---