Specialty Centers :: CHOC Clinic in Orange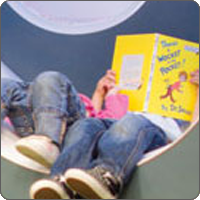 The CHOC Clinic at Orange, located on the main CHOC Campus in Orange, promotes wellness and preventive care in high-risk / disadvantaged populations, with referral to the most appropriate level of care. The clinic supports well-child and routine medical care, and provides services for the prevention, treatment and management of chronic diseases. The CHOC Clinic at Orange also serves as a teaching center for the CHOC Residency Program, and interns in their first year donate a significant number of volunteer hours at this clinic site.
New, State-of-the-Art Facility
Featuring 85 rooms equipped with state-of-the-art technology, including a radiology suite, the new CHOC Ambulatory Care Center has opened on the first floor of CHOC Clinics Building. The center offers primary care and 23 different pediatric subspecialty clinics.
CHOC has added a surgery clinic for patients requiring specialized post-operative, outpatient care. Also new are two dental chairs provided through Healthy Smiles of Orange County, in collaboration with the University of Southern California dental residency program.
CLINIC APPOINTMENT HOURS
Monday– Friday, 8 a.m. to 8 p.m.
Saturday, 8 a.m. to 4 p.m.
Sunday and holidays, closed
Please call CHOC's Healthy Families Program Coordinator at (714) 509-4569 to determine eligibility for your children to receive care at the CHOC Clinic. If you are already eligible for CHOC Clinic Services, please call (714) 509-4707 for an appointment.
In case of emergency please go to:
CHOC's Emergency Department located on the first floor of The Bill Holmes Tower at CHOC Children's.
Services at this Location
Lipid Clinic
2nd & 4th Monday of the month – Mornings

Clinical Genetics Clinic
Endocrinology Clinic
Monday-Friday, 7:50am to 4pm

Gastroenterology Clinic
Monday-Friday 8am to 4:30pm

Metabolic Disorders Clinic
Pulmonology Clinic
Monday-Friday, Please call for appointment

Rheumatology Clinic
Monday-Friday, Please call for appointment

Infectious Disease Clinic
Tuesdays & Thursdays – Mornings, Wednesdays – Afternoons

Hematology Clinic
Mondays & Wednesdays, 1pm to 4pm & Fridays, 8am to 11:40 am

Nephrology Clinic
Tues-Thurs, 9am to 12noon, Tues & Thurs, 1pm to 4pm, Weds & Fri, 1pm to 3pm

CHOC Orange Primary Care Clinic
Mon, Tues, Thurs: 8am to 8pm
Wed, Friday: 8am to 5pm
Sat: 9am to 1pm
Sunday: closed

To schedule an appointment, please call (714) 289-4840.
CHOC Children's Ambulatory Care Center
Building:
CHOC West
455 South Main Street - 1st Floor
Orange, CA 92868
Special Instructions:
Clinics entrance is off Providence. Park in the visitor structure (#4 on the campus map).
Maps:
Click here for printable map
Click here for Spanish map