Specialty Centers :: Breathmobile - Mobile Asthma Clinic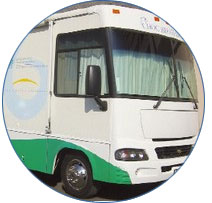 The CHOC Breathmobile and the Orange County School Asthma program is committed to providing comprehensive asthma care to school age children.
The CHOC Breathmobile visits schools on a rotating schedule every four to six weeks.
Children at high risk for asthma and allergies are offered an initial medical examination, and are invited to participate in the program based on examination results and history.
The following services are offered:
An asthma and allergy evaluation by an asthma specialist including a comprehensive history, physical exam, breathing tests, and limited skin tests
Standard and ongoing medical treatment for the child's asthma and allergies including medications and home peak flow monitoring
Education and training about the management of asthma including proper use of equipment, medications, asthma/allergy triggers, recognition of trouble symptoms, and emergencies
Referral to county and community resources
Assistance to families in obtaining health insurance.
CONTACT INFORMATION
(714) 509-7571
Monday – Friday
8 a.m. to 4 p.m.
Achoo! Kids, Allergies and Asthma


About 40 percent of people who have allergies also have asthma, a chronic disease that affects the airways. It usually develops during childhood and affects about 9 million kids. Fortunately, asthma can be easily controlled and managed—even during spring allergy season. CHOC is a leader in early detection and treatment of pediatric asthma, providing families the education they need to prevent asthma emergencies.


---